Did you like the previous pre-order campaign lists I made just for you?
Hope they've helped you a lot because today marks the start of me, sharing the Swag Party for 2019 new book releases. I know I've convinced you to stretch out your grabby crabby hands to get all the amazing books out there for the past few months but AGAIN, I want to spice up your cozy bookish nook and add some more pinch of sweetness to your lovely reading life!
So, if you already pre-ordered a book and haven't sent your proof of purchase, don't worry just yet because you ain't late for the party! Just follow the details' links provided where you can send them. 
UPDATE: Some authors will let you get their pre-order incentive by requesting their books on your local library. If that happens, I will sure to include that whenever a library request option is available.
If there's a book you know that is not in this list or your an author who wants to spread more about your pre-order campaign, comment down below and I'll add them up.
Soul of Stars by Ashley Poston
Release Date: July 23, 2019
Pre-order links:
Amazon | Barnes & Noble | Book Depository | Indiebound | Wordery

Pre-order / Library request / Purchase the Heart of Iron paperback and you'll get (Ends August 23):
📖 1 bookmark from each of the three books in the trilogy with a pretty image and a thematic quote
📖 Digital poster and wallpapers
Details here
Ziggy, Stardust and Me by James Brandon
Release Date: August 6, 2019
Pre-order links:
Amazon | Barnes & Noble | Book Depository | Indiebound | Wordery

Pre-order and you'll get (INT'L, Ends August 15):
📖 A "Gay is Good" vintage remake button
📖 Official Ziggy bookmark
📖 Signed bookplate
📖 Ziggy cover sticker (artwork by the glorious Tomasz Mro)
📖 $1 donation to BAAITS
Library request and you'll get (INT'L):
📖 Official Ziggy bookmark
📖 Ziggy cover sticker
3 Grand prize winner will get:
📖 Ziggy Stardust and the Spiders from Mars Concert DVD
📖 Ziggy Stardust and the Spiders from Mars vinyl
📖 Ziggy Stardust T-shirt (size Large) and Bowie Sticker pack
Details here

Midnight Beauties by Megan Shepherd
Release Date: August 13, 2019
Pre-order links:
Amazon | Barnes & Noble | Book Depository | Indiebound | Wordery

Pre-order and you'll get (US only):
📖 Exclusive Midnight Beauties goodies
📖 Exclusive novella, Tricks and Whispers
Details here

The Downstairs Girl by Stacey Lee
Release Date: August 13, 2019
Pre-order links:
Amazon | Barnes & Noble | Book Depository | Indiebound | Wordery

Pre-order / Library request and you'll get (US only):
📖 Door hanger, which also makes an excellent bookmark
📖 A butterfly knot hand tied by the author (first 100 US pre-orders)
Details here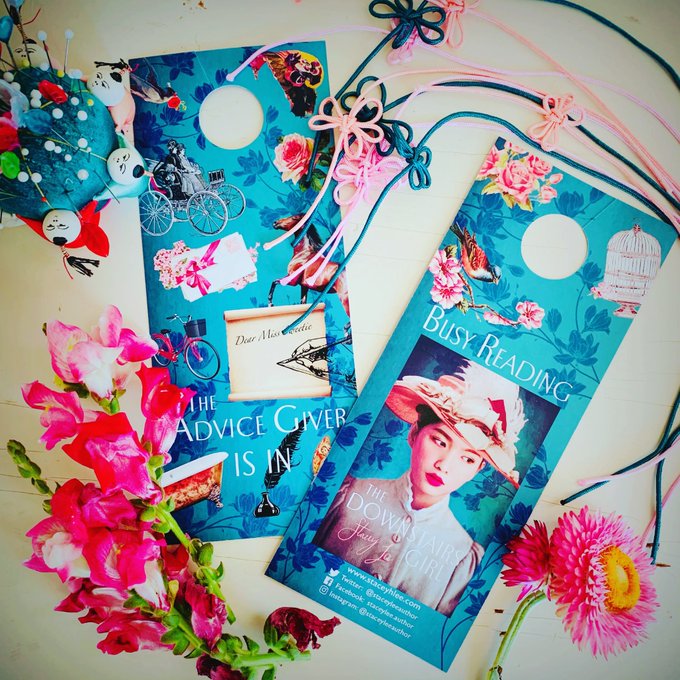 The Butterfly Recluse by Therese Heckenkamp
Release Date: August 13, 2019
Pre-order links:
Amazon

Pre-order and you'll get (US Only):
📖 Signed bookmark
📖 Butterfly charm
📖 Fridge magnet
📖 Butterfly sticker
Details here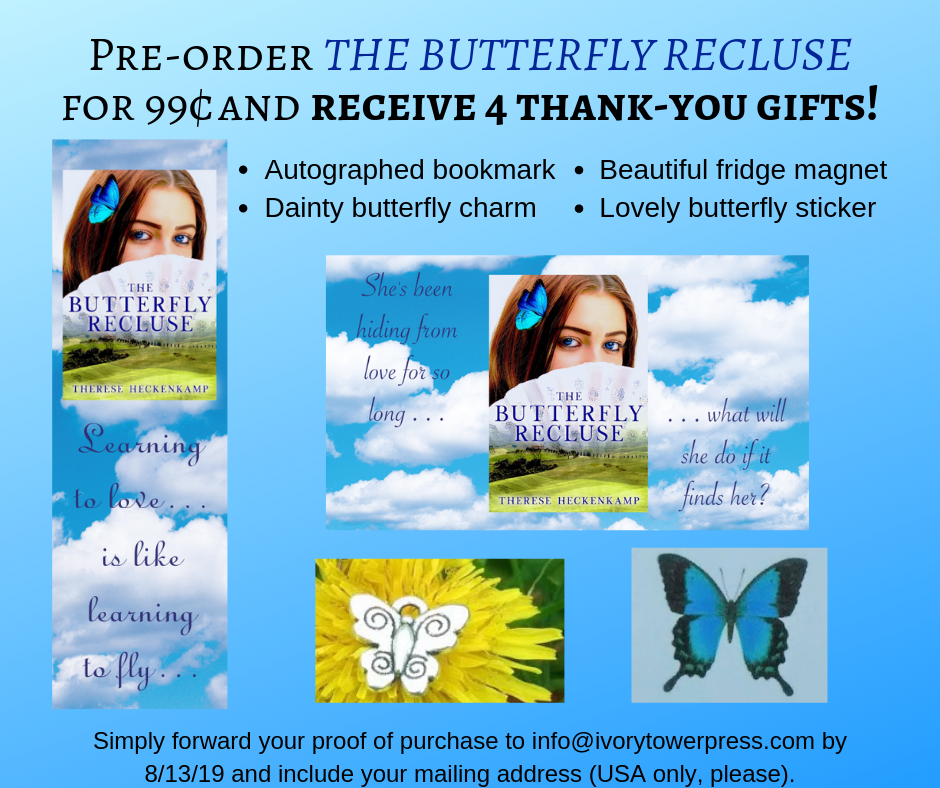 The Trouble with Shooting Stars by Meg Cannistra
Release Date: August 20, 2019
Pre-order links:
Amazon | Barnes & Noble | Book Depository | Indiebound | Wordery

Pre-order / Library request and you'll get (US only):
📖 Zeppelin sticker
📖 Star enamel pin
Details here
Crown of Coral and Pearl by Mara Rutherford
Release Date: August 27, 2019
Pre-order links:
Amazon | Barnes & Noble | Book Depository | Indiebound | Wordery

Pre-order / Library request and you'll get (INT'L):
📖 Two 4"x6" prints of character art done by the brilliant @danikacorrall
Grand prize winner will get:
📖 Enamel pin from Out of Print
📖 Notebooks
📖 Pens and more
Details here

Pumpkinheads by Rainbow Rowell
Release Date: August 27, 2019
Pre-order links:
Amazon | Barnes & Noble | Book Depository | Indiebound | Wordery

Pre-order and you'll get (US and CAN only):
📖 Original signed art print
Grand prize winner will get:
📖 A trip to the PUMPKINHEADS launch event on 8/27 for both you and a guest!
Details here
Wild Savage Stars by Kristina Pérez
Release Date: August 27, 2019
Pre-order links:
Amazon | Barnes & Noble | Book Depository | Indiebound | Wordery

Pre-order and you'll get:
📖 Exclusive bonus content from SWEET BLACK WAVES! Kristina Perez re-wrote the first chapter of the book from Tristan's point of view, and you won't want to miss it.
Details here (US) Details here (INT'L)
The Spinner of Dreams by K.A. Reynolds
Release Date: August 27, 2019
Pre-order links:
Amazon | Barnes & Noble | Book Depository | Indiebound | Wordery

Pre-order / Library request and you'll get (INT'L):
📖 Signed bookmark
📖 Sticker featuring the gorgeous cover art of Julia Iredale
First 100 pre-orders will receive (US only):
📖 2 of the 3 malleable postcards featuring original character art by the talented Jensine Eckwall
📖 Signed bookmark
📖 Book cover sticker
📖 A small black crow feather enamel pin that says Dreamer
Grand prize winner will get:
📖 3 malleable character postcards
📖 Signed bookmark
📖 2 notebooks featuring original character art (one says Dreamer, the other says Follow your Dreams)
📖 Book cover sticker
📖 A large and symbolic phoenix-rising-from-the-ashes necklace
📖  2 enamel pins
Details here
Barstool Theology: Crafting the Good Life by Trevor Gundlach
Release Date: August 30, 2019
Pre-order links:
Amazon | Barnes & Noble | Book Depository | Indiebound | Wordery

Pre-order and you'll get:
📖 Koozie
Details here
The Many Colors of Harpreet Singh by Supriya Kelkar
Release Date: September 3, 2019
Pre-order links:
Amazon | Barnes & Noble | Book Depository | Indiebound | Wordery

Pre-order by June 30 and you'll get (US only):
📖 Signed bookmark
📖 Signed bookplate
Details here
Darkdawn by Jay Kristoff
Release Date: September 3, 2019
Pre-order links:
Amazon | Barnes & Noble | Book Depository | Indiebound | Wordery

Pre-order and you'll get (INT'L):
📖 A deleted chapter from DARKDAWN called "Three"
Details here
Serpent & Dove by Shelby Mahurin
Release Date: September 3, 2019
Pre-order links:
Amazon | Barnes & Noble | Book Depository | Indiebound | Wordery

Pre-order / Library request and you'll get (INT'L, Ends August 27):
📖 4 character cards
📖 Digital annotated first chapter
Grand prize winner will get:
📖 Custom S&D mug from Clay Plant Road
📖 Custom "La Dame Blanche" candle from Wick & Jane
📖 Crescent moon necklace from Vintage Acorn
📖 moleskin notebook with graphic from @IsabelWriter09
📖 Crescent moon necklace from Vintage Acorn
📖 Art print of Lou and Reid from @Abigail_Larson
Details here
The Girl the Sea Gave Back by Adrienne Young
Release Date: September 3, 2019
Pre-order links:
Amazon | Barnes & Noble | Book Depository | Indiebound | Wordery

Pre-order and you'll get (US only):
📖 Snake letterpress print
Grand prize winner will get:
📖 Sterling silver arrow necklace on a 16" chain with a length extender
📖 Handmade giant clay mug inspired by the TGTSGB cover
📖 A celestite stone
📖 Original art print from @dasstark
📖 Signature scent in a TGTSGB inspired rollerball made by the author with blue calcite stones (peace & intuition) inside & a lapis lazuli stone (clarity & compassion) roller
📖 Set of bookmark author annotations for your copy of THE GIRL THE SEA GAVE BACK
📖 Enamel pin of the TGTSGB book cover
Details here
American Royals by Katharine McGee
Release Date: September 3, 2019
Pre-order links:
Amazon | Barnes & Noble | Book Depository | Indiebound | Wordery

Pre-order and you'll get (US Only):
📖 A tote bag
📖 Reusable coffee sleeve
📖 Bookmark
📖 Washinton family tree
Details here
Eclipse the Skies by Maura Milan
Release Date: September 3, 2019
Pre-order links:
Amazon | Barnes & Noble | Book Depository | Indiebound | Wordery

Pre-order and you'll get (US only):
📖 White Hearts enamel pin
Details here
There Will Come a Darkness by Katy Rose Pool
Release Date: September 3, 2019
Pre-order links:
Amazon | Barnes & Noble | Book Depository | Indiebound | Wordery

Pre-order and you'll get (US only):
📖 A deck of character scrying cards
Details here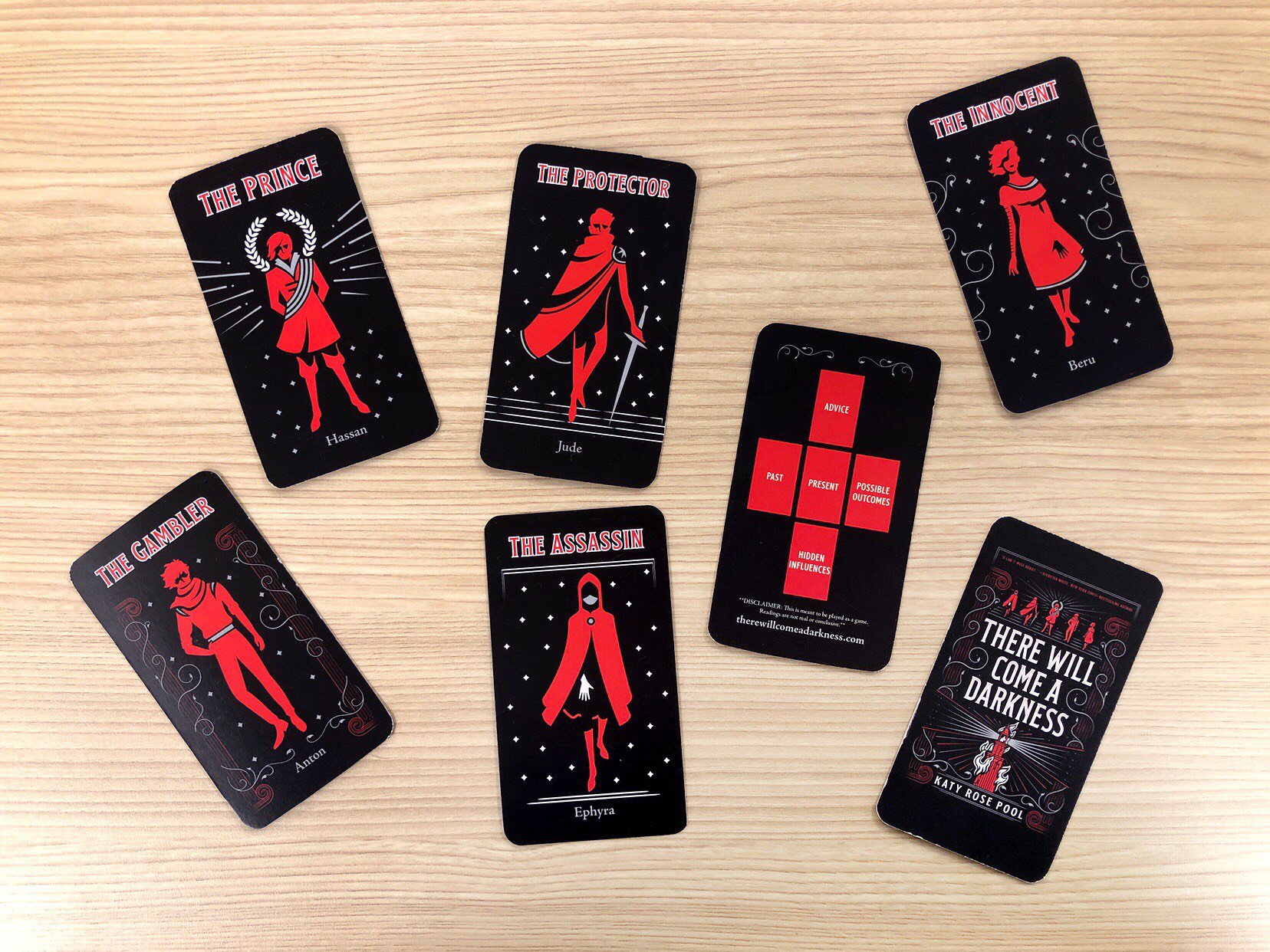 Dear Haiti, Love Alaine by Maika Moulite & Maritza Moulite
Release Date: September 3, 2019
Pre-order links:
Amazon | Barnes & Noble | Book Depository | Indiebound | Wordery

Pre-order and you'll get (US & CAN only):
📖 A set of exclusive postcards featuring book quotes and images from Haitian photographer Samuel Dameus
Details here
Tiger Queen by Annie Sullivan
Release Date: September 10, 2019
Pre-order links:
Amazon | Barnes & Noble | Book Depository | Indiebound | Wordery

Pre-order / Library request and you'll get (INT'L):
📖 Enamel Pin
📖 Signed Bookplate
📖 Creature Guide
📖 Digital Poster
Details here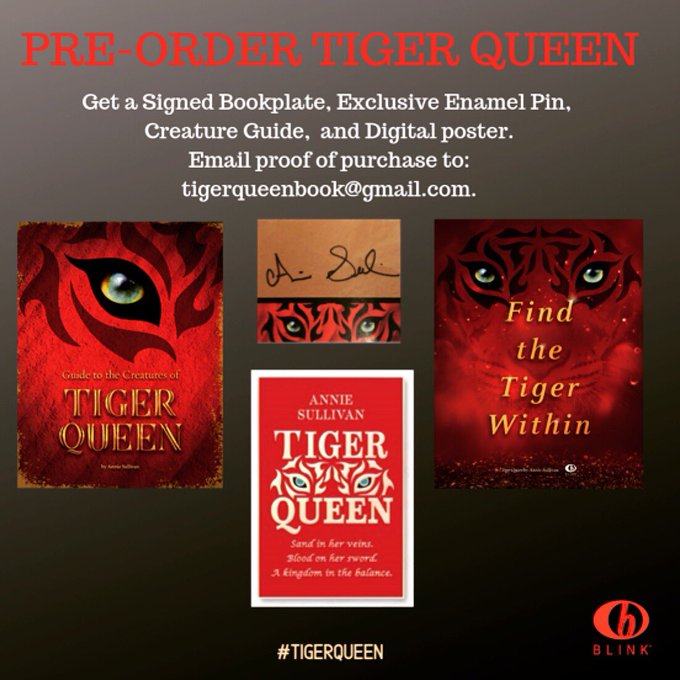 The Liar's Daughter by Megan Cooley Peterson
Release Date: September 10, 2019
Pre-order links:
Amazon | Barnes & Noble | Book Depository | Indiebound | Wordery

Pre-order and you'll get (US only):
📖 Bookmark
📖 Signed bookplate
Details here
A Match Made in Mehendi by Nandini Bajpai
Release Date: September 10, 2019
Pre-order links:
Amazon | Barnes & Noble | Book Depository | Indiebound | Wordery

Pre-order / Library request and you'll get (US only):
📖 Exclusive swag
Details here
Frankly in Love by David Yoon
Release Date: September 10, 2019
Pre-order links:
Amazon | Barnes & Noble | Book Depository | Indiebound | Wordery

Pre-order and you'll get (US only):
📖 Enamel pin
📖 Tote bag
Details here
Capturing the Devil by Kerri Maniscalco
Release Date: September 10, 2019
Pre-order links:
Amazon | Barnes & Noble | Book Depository | Indiebound | Wordery

Pre-order and you'll get (US only):
📖 An alternate cover/dust jacket for Capturing the Devil
📖 A 6" x 9" double-sided postcard featuring original color artwork of a wedding scene with Audrey Rose Wadsworth and Thomas Cresswell by Gabriella Bujdosó
Details here
A Treason of Thorns by Laura E. Weymouth
Release Date: September 10, 2019
Pre-order links:
Amazon | Barnes & Noble | Book Depository | Indiebound | Wordery

Pre-order and you'll get (INT'L, Ends September 24):
📖 Deleted scenes from The Light Between Worlds
📖 Previously unpublished short fiction
Details here
Seeker by Kim Chance
Release Date: September 10, 2019
Pre-order links:
Amazon | Barnes & Noble | Book Depository | Indiebound | Wordery

Pre-order and you'll get (INT'L):
📖 Bookmark
📖 Signed bookplate
📖 4×6 print of an exclusive custom piece of Seeker artwork created by the incredibly talented, Gabriella Bujdoso
Grand prize winner will get:
📖 A SIGNED copy of KEEPER & SEEKER
📖 An 8×10 print of the Seeker Artwork
📖 1 set of KEEPER character cards
📖 1 special edition Lainey Styles candle
📖 $10 gift card to Starbucks
Details here
When She Reigns by Jodi Meadows
Release Date: September 10, 2019
Pre-order links:
Amazon | Barnes & Noble | Book Depository | Indiebound | Wordery

Pre-order and you'll get (INT'L):
📖 Dragon stickers
📖 Signed bookplate
📖 Bookmark
📖 Dragon card

If you order a book from One More Page, then you get all of the above plus:
📖 Exclusive 3" round sticker designed by Hey Atlas Creative
📖 A signed, personalized, and stamped edition.
Details here
Momentous Events In the Life of a Cactus by Dusti Bowling
Release Date: September 17, 2019
Pre-order links:
Amazon | Barnes & Noble | Book Depository | Indiebound | Wordery

Pre-order and you'll get:
📖 Signed bookmark
📖 Signed bookplate
📖 Bonus story
Details here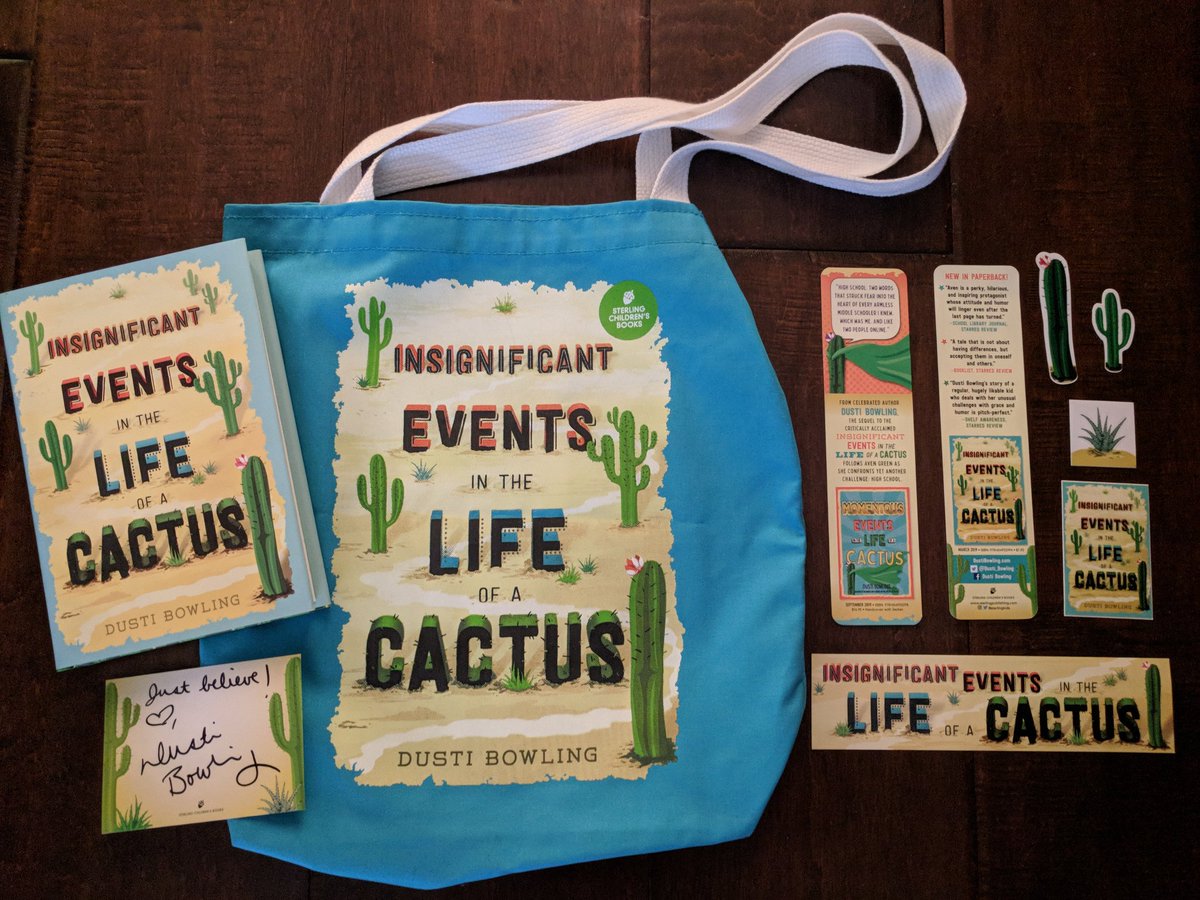 The Liars of Mariposa Island by Jennifer Mathieu
Release Date: September 17, 2019
Pre-order links:
Amazon | Barnes & Noble | Book Depository | Indiebound | Wordery

Pre-order and you'll get (INT'L):
📖 Butterfly Charm Necklace
📖 Butterfly stickers
📖 Postcard
📖 Bookmark
Details here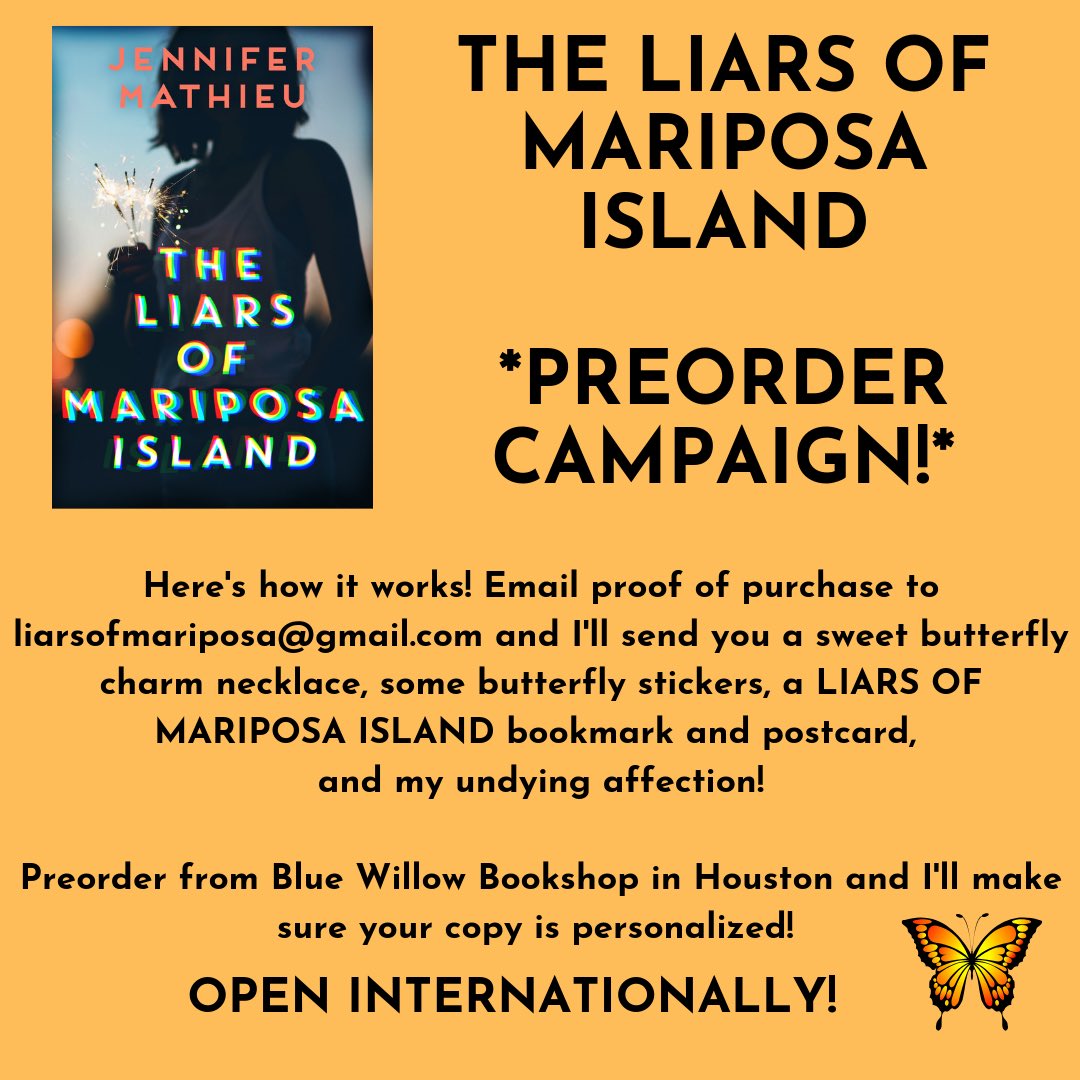 Just Lucky by Melanie Florence
Release Date: September 17, 2019
Pre-order links:
Amazon | Barnes & Noble | Book Depository | Indiebound | Wordery

Pre-order / Library request and you'll get:
📖 Buttons
📖 Bookplate
📖 Stickers
Details here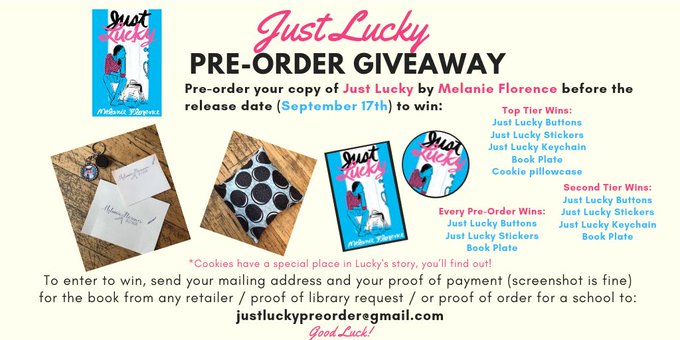 The Seven Necessary Sins for Women and Girls by Mona Eltahawy
Release Date: September 17, 2019
Pre-order links:
Amazon | Barnes & Noble | Book Depository | Indiebound | Wordery

First 50 pre-orders will get (US only):
📖 A Seven Sins T-shirt
📖 A 5×7 art print with a quote from the book
📖 Signed bookplate
Details here
The Infinite Noise by Lauren Shippen
Release Date: September 24, 2019
Pre-order links:
Amazon | Barnes & Noble | Book Depository | Indiebound | Wordery

Pre-order and you'll get (US & CAN only):
📖 A downloadable phone background
📖 A Bright Sessions original e-short story titled BLUEPRINT (featuring Caleb and Adam)
📖 An exclusive audio interview with author Lauren Shippen and her fellow The Bright Sessions podcast co-star, Briggon Snow (the voice of Caleb Michaels)
Details here
The Future of Another Timeline by Annalee Newitz
Release Date: September 24, 2019
Pre-order links:
Amazon | Barnes & Noble | Book Depository | Indiebound | Wordery

Pre-order and you'll get (US & CAN only):
📖 Enamel pin
Details here
Bid My Soul Farewell by Beth Revis
Release Date: September 24, 2019
Pre-order links:
Amazon | Barnes & Noble | Book Depository | Indiebound | Wordery

Pre-order and get a chance to win:
📖 One of over 40 prize packs, each with *five* signed books in it!
Details here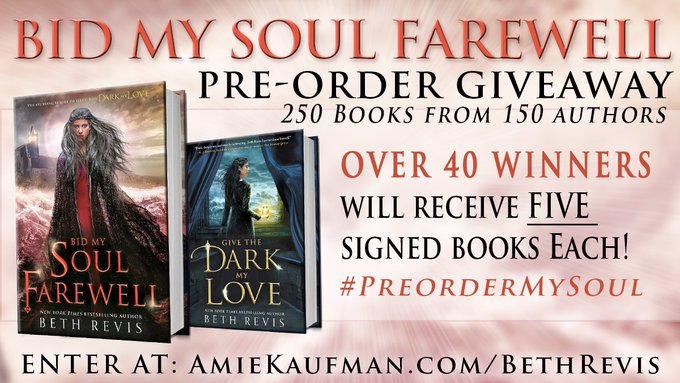 Rebel by Marie Lu
Release Date: October 1, 2019
Pre-order links:
Amazon | Barnes & Noble | Book Depository | Indiebound | Wordery

Pre-order and you'll get (US only):
📖 Original art print
📖 An entry to win a trip to the REBEL launch event on 10/1 for both you and a guest
Details here
Crier's War by Nina Varela
Release Date: October 1, 2019
Pre-order links:
Amazon | Barnes & Noble | Book Depository | Indiebound | Wordery

Pre-order and you'll get (INT'L):
📖 Exclusive special coded letter from the world of Crier's War with wax seal
📖 Exclusive Automa drawing
📖 Signed bookplate
Details here
The Good Luck Girls by Charlotte Nicole Davis
Release Date: October 1, 2019
Pre-order links:
Amazon | Barnes & Noble | Book Depository | Indiebound

Pre-order and you'll get (US and CAN only):
📖 Limited edition tote bag
Details here
Scars Like Wings by Erin Stewart
Release Date: October 1, 2019
Pre-order links:
Amazon | Barnes & Noble | Book Depository | Indiebound | Wordery

Pre-order / Library request and you'll get:
📖 Poetry magnet
📖 Temporary wing tattoo
📖 Bookmark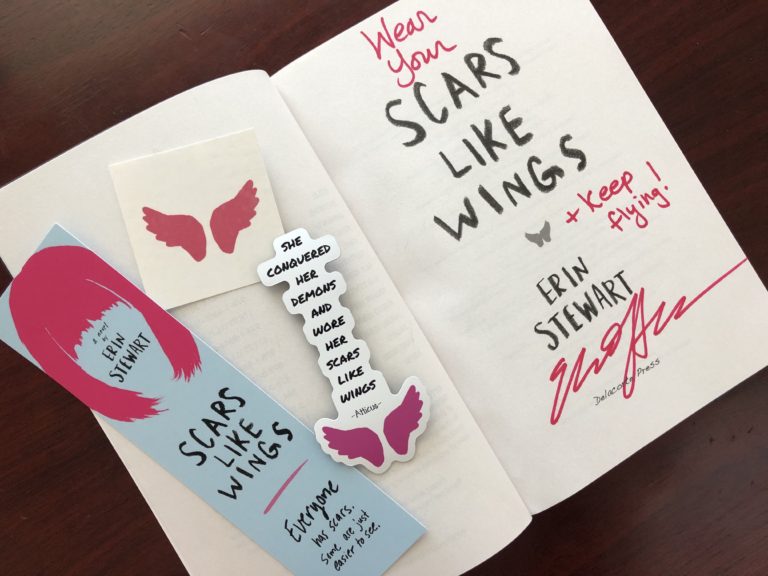 3 winners who pre-order from other retailers:
📖 All pre-order swags
📖 Silver wing necklace
📖 8 x 10 canvas print with Atticus poem
📖 Custom Scars like Wings notebook
Grand prize winner will get:
📖 All of the above
📖 Kindle Paperwhite pre-loaded with Scar like Wings plus one other novel of your choice
Details here
Outlaws by Jen Calonita
Release Date: October 1, 2019
Pre-order links:
Amazon | Barnes & Noble | Book Depository | Indiebound | Wordery

Pre-order and you'll get (US and CAN only):
📖 Character card
📖 Signed bookplate
Details here
The Fountains of Silence by Ruta Sepetys
Release Date: October 1, 2019
Pre-order links:
Amazon | Barnes & Noble | Book Depository | Indiebound | Wordery

Pre-order and you'll get (US only):
📖 Exclusive keychain
Details here
The Burning Shadow by Jennifer L. Armentrout
Release Date: October 8, 2019
Pre-order links:
Amazon | Barnes & Noble | Book Depository | Indiebound | Wordery

Pre-order and you'll get (US and CAN only):
📖 Original e-short story emailed to them on 10/8/19: Like the First Time
Details here
The Beautiful by Renée Ahdieh 
Release Date: October 8, 2019
Pre-order links:
Amazon | Barnes & Noble | Book Depository | Indiebound | Wordery

Pre-order and you'll get (US only):
📖 An exclusive La Cour Des Lion Enamel Pin
Details here
Gravemaidens by Kelly Coon
Release Date: October 29, 2019
Pre-order links:
Amazon | Barnes & Noble | Book Depository | Indiebound | Wordery

Pre-order and you'll get (US):
📖 Enamel pin
📖 Bookmark
📖 Moth laptop sticker
📖 Signed bookplate
📖 Deleted scene from Boatman's POV

Pre-order and you'll get (INT'L):
📖 Maiden's Tonic mocktail card
📖 Bookmark
📖 Moth laptop sticker
📖 Signed bookplate
📖 Deleted scene from Boatman's POV
Library request and you'll get:
📖 Bookmark
📖 Deleted scene from Boatman's POV
Details here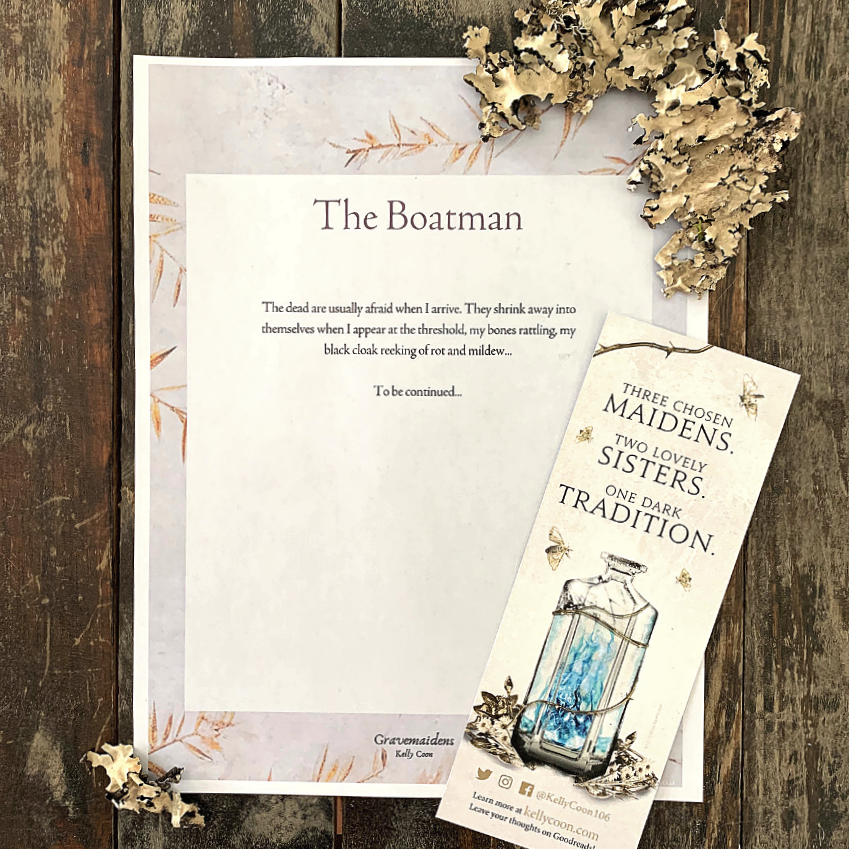 Supernova by Marissa Meyer
Release Date: November 5, 2019
Pre-order links:
Amazon | Barnes & Noble | Book Depository | Indiebound | Wordery

Pre-order and you'll get (US only):
📖 Your name printed in the paperback of Archenemies
📖An exclusive Universe of Marissa Meyer promo item, reveal to come!
Details here
Call Down the Hawk by Maggie Stiefvater
Release Date: November 5, 2019
Pre-order links:
Amazon | Barnes & Noble | Book Depository | Indiebound | Wordery

Pre-order and you'll get (US only):
📖 An exclusive bookplate for every release, and a signed bookplate will come with every copy of CALL DOWN THE HAWK pre-ordered from Fountain Bookstore
Details here
Crown of Oblivion by Julie Eshbaugh
Release Date: November 12, 2019
Pre-order links:
Amazon | Barnes & Noble | Book Depository | Indiebound | Wordery

Pre-order and you'll get (INT'L):
📖 Enamel pin
📖 Cutout bookmark
📖 Signed bookplate
📖 Quote card
Details here
The Kill Club by Wendy Heard
Release Date: December 17, 2019
Pre-order links:
Amazon | Barnes & Noble | Book Depository | Indiebound | Wordery

Pre-order and you'll get (INT'L):
📖 Blackbird Killer lapel pin
📖 Blackbird Killer playing card
📖 Bookmark
📖 Signed bookplate
📖 Secret swag
Details here
Previous Pre-order Campaigns:

When the Truth Unravels by RuthAnne Snow
Release Date: January 1, 2019
Pre-order links:
Amazon | Barnes & Noble | Book Depository | Indiebound | Wordery


Pre-order and you'll get (US Only):
📖 Signed bookplate
📖 An art print designed by the amazing Isabel Ibanez Davis

Unlocks the big four prize packs, inspired by each girl in WHEN THE TRUTH UNRAVELS (after 200 entries):
Jenna's prize pack:
📖 A notebook
📖 TUL pens
📖 A "nasty woman" bracelet
📖 A variety pack of sheet masks

Rosie's prize pack:
📖 Sandman by Neil Gaiman graphic novel
📖 $15 Barnes and Noble gift card
📖 A cozy scarf for wintry reading

Ket's prize pack:
📖 A pair of satin pillowcases
📖 A selection of glittery nail polishe
📖 A pair of unicorn slipper

Elin's prize pack:
📖 First season of Golden Girls on DVD
📖 Lip balm
📖 A "nevertheless, she persisted" bracelet
Details hereFirestarter by Tara Sim
Release Date: January 8, 2019
Pre-order links:
Amazon | Barnes & Noble | Book Depository | Indiebound | Wordery


Pre-order and you'll get (INT'L):
📖 A 10 x 8 exclusive poster of Danny and Colton (art by TJ Ryan)
Details here

Two Can Keep a Secret by Karen M. McManus
Release Date: January 8, 2019
Pre-order Links:
Amazon | Barnes & Noble | Book Depository | Indiebound | Wordery


Pre-order and you'll get (US Only):
📖 An exclusive short story set in the aftermath of One of Us Is Lying, "The Bayview Four: Where Are They Now?"
Details hereEven If I Fall by Abigail Johnson
Release Date: January 8, 2019
Pre-order links:
Amazon | Barnes & Noble | Book Depository | Books-A-Million | Indiebound | Wordery


Pre-order and you'll get (INT'L):
📖 Bookmark
📖 Signed bookplate
📖 Cloud charm necklace with quote card (US only)
📖 Digital copy of the original flash fiction piece that inspired Even If I Fall
Details here
The Winter of the Witch by Katherine Arden
Release Date: January 8, 2019
Pre-order Links (US Only):
Amazon | Barnes & Noble | Book Depository | Indiebound | Wordery


Pre-order and you'll get:
📖 Signed bookplate
Details hereThe Wicked King by Holly Black
Release Date: January 8, 2019
Pre-order Links:
Amazon | Barnes & Noble | Book Depository | Indiebound | Wordery


Pre-order and you'll get (US Only):
📖 Enamel Pin
📖 The Wicked King bookmark
Details hereOur Year of Maybe by Rachel Lynn Solomon
Release Date: January 15, 2019
Pre-order Links:
Amazon | Barnes & Noble | Book Depository | Indiebound | Wordery


Pre-order and you'll get (INT'L):
📖 Bookmark
📖 Signed bookplate
📖 MAYBE vinyl sticker (about 1.5 x 3.5 inches)
📖 Adorable dandelion enamel pin (US only)
📖 Dandelion temporary tattoo (Third Place Books only)

3 Grand prize winners will get:
📖 Bookmark
📖 Signed bookplate
📖 MAYBE vinyl sticker (about 1.5 x 3.5 inches)
📖 Dandelion enamel pin
📖 Dandelion book beau
📖 Dandelion makeup bag
📖 Dandelion lip balm
📖 Chinchillin' enamel pin (in honor of a character's pet chinchilla named Mark)
📖 Signed You'll Miss Me When I'm Gone paperback (also out 1/15/19)
📖 The chance to name a character in Rachel Lynn Solomon's 2020 book!
Details hereStain by A.G. Howard
Release Date: January 15, 2019
Pre-order Links:
Amazon | Barnes & Noble | Book Depository | Indiebound | Wordery


Pre-order and you'll get (US Only):
📖 Enamel Pin
📖 Signed bookplate
📖 A never-before-told backstory to Splintered's Morpheus
Details hereEcho North by Joanna Ruth Meyer
Release Date: January 15, 2019
Pre-order Links:
Amazon | Barnes & Noble | Book Depository | Indiebound | Wordery


Pre-order and you'll get (US Only):
📖 Bookmark
📖 Sticker
📖 Magnet
📖 Postcard
📖 Signed bookplate

Grand prize winner will get:
📖 A cross-stitch by Anna Bright
Details hereThe Gilded Wolves by Roshani Chokshi
Release Date: January 15, 2019
Pre-order links:
Amazon | Barnes & Noble | Book Depository | Indiebound | Wordery


Pre-order and you'll get:
📖 A pack of character tarot cards designed by Yoshi Yoshitani
Details hereOnly a Breath Apart by Katie McGarry
Release Date: January 22, 2019
Pre-order links:
Amazon | Barnes & Noble | Book Depository | Indiebound | Wordery


Pre-order and you'll get:
📖 Original eNovellas:
• A Moment Together (Only a Breath Apart Prequel)
• Returning Home (A Thunder Road Novella)
Details hereAll Is Fair by Dee Garretson
Release Date: January 22, 2019
Pre-order links:
Amazon | Barnes & Noble | Book Depository | Indiebound | Wordery


Pre-order and you'll get:
📖 Vintage-inspired elastic bracelet (first 20 entrants)
📖 Bookmark with biplane charm (first 20 entrants)
📖 Bookplate
Details hereSong of the Dead by Sarah Glenn Marsh
Release Date: January 22, 2019
Pre-order links:
Amazon | Barnes & Noble | Book Depository | Indiebound | Wordery


Pre-order and you'll get (INT'L):
📖 Signed Song of the Dead bookmark
📖 An 11×17 beautiful map of the world of the Reign of the Fallen series (art by Jessica Khoury)
📖 4 new character cards including everyone's favorite bear, Lysander! (art by Jo Painter)
Details hereThe Birds, the Bees, and You and Me by Olivia Hinebaugh
Release Date: January 22, 2019
Pre-order Links:
Amazon | Barnes & Noble | Book Depository | Indiebound | Wordery


Pre-order at One More Page and you'll get:
📖 Enamel pins
Details hereCircle of Shadows by Evelyn Skye
Release Date: January 22, 2019
Pre-order Links (US Only):
Amazon | Barnes & Noble | Book Depository | Indiebound | Wordery


Pre-order and you'll get:
📖 A limited edition of character cards
📖 Get a chance to win a $1000 shopping spree
Details hereThe Kingdom of Copper by S. A Chakraborty
Release Date: January 22, 2019
Pre-order Links:
Amazon | Barnes & Noble | Book Depository | Indiebound | Wordery


Pre-order and you'll get:
📖 Exclusive short story
Details hereA Curse So Dark and Lonely by Brigid Kemmerer
Release Date: January 29, 2019
Pre-order Links:
Amazon | Barnes & Noble | Book Depository | Indiebound | Wordery


Pre-order and you'll get (INT'L):
📖 A bonus scene
📖 An exclusive early sneak peek at Book 2

4 Grand prize winners will get:
📖 A Book Beau
📖 Out of Print socks
📖 Books-scented Homesick candle
📖 Anthropologie mug
📖 Lush Bath Bomb
📖 Books Are Magic enamel pin
📖 A signed copy of Brigid Kemmerer's Letters to the Lost
Details hereHere and Now and Then by Mike Chen
Release Date: January 29, 2019
Pre-order Links:
Amazon | Barnes & Noble | Book Depository | Indiebound | Wordery


Pre-order and you'll get:
📖 Bookmark
📖 Signed Bookplate

Grand prize winners will get:
📖 Hand annotated ARC of Here and Now and Then
Details hereThe Love & Lies of Rukhsana Ali by Sabina Khan
Release Date: January 29, 2019
Pre-order Links:
Amazon | Barnes & Noble | Book Depository | Indiebound | Wordery


Pre-order and you'll get (INTL):
📖 A bookmark
📖 A signed bookplate
📖 A 4″ by 6″ postcard of Rukhsana in Bangladesh
📖 A 4″ by 6″ postcard of Rukhsana and Ariana in Seattle

3 Grand prize winners will get:
📖 Pre-order swags
📖 A poster of TLLORA art (11″ by 17″)
📖 A scented candle from Bath and Body Works
📖 A tin of Organic Cinnamon Rooibos Chai from David's tea
📖 A hand-written personalized letter from me.
Details hereKing of Scars by Leigh Bardugo
Release Date: January 29, 2019
Pre-order links:
Amazon | Barnes & Noble | Book Depository | Indiebound | Wordery


Pre-order and you'll get:
📖 King of Scars enamel pin (US only)
📖 Win an exclusive print signed by author Leigh Bardugo featuring new character art of Nikolai Lantsov by artist Kevin Wada (UK only through Waterstones)
Details hereDeath Prefers Blondes by Caleb Roehrig
Release Date: January 29, 2019
Pre-order links:
Amazon | Barnes & Noble | Book Depository | Indiebound | Wordery


Pre-order and you'll get (INT'L):
📖 Bookmark
📖 Art Card
📖 Signed Bookplate
📖 An original digital short story (emailed as a pdf)
Details hereEnchantée by Gita Trelease
Release Date: February 5, 2019
Pre-order links:
Amazon | Barnes & Noble | Book Depository | Indiebound | Wordery


Pre-order and you'll get (US Only):
📖 Exclusive hot air balloon print (11″x17″)
Details hereThe Weight of Our Sky by Hanna Alkaf
Release Date: February 5, 2019
Pre-order links:
Amazon | Barnes & Noble | Book Depository | Indiebound | Wordery


Pre-order and you'll get (INT'L):
📖 Enamel pin designed by Rizal Aziz
📖 Bookmark
📖 Signed bookplate illustrated by the author
📖 A pop-up card featuring scenes of old-school Malaysia from Loka Made, illustrated by Fei Giap
Details hereA Sprinkle of Spirits by Anna Meriano
Release Date: February 5, 2019
Pre-order links:
Amazon | Barnes & Noble | Book Depository | Indiebound | Wordery


Pre-order and you'll get (INT'L):
📖 Stickers
📖 Pins
Details hereThe Last Life of Prince Alastor by Alexandra Bracken
Release Date: February 5, 2019
Pre-order links:
Amazon | Barnes & Noble | Book Depository | Indiebound | Wordery


Pre-order and you'll get (INT'L):
📖 Three character prints (final versions will be updated soon!)
Details hereLady Smoke by Laura Sebastian
Release Date: February 5, 2019
Pre-order links:
Amazon | Barnes & Noble | Book Depository | Indiebound | Wordery

Pre-order and you'll get (US Only):
📖 A Lasy Smoke phone wallet
Details hereCourting Darkness by Robin LaFevers
Release Date: February 5, 2019
Pre-order links:
Amazon | Barnes & Noble | Book Depository | Indiebound | Wordery


Pre-order and you'll get (US Only):
📖 Notebook (first 300 pre-orders)
📖 Enamel pin (first 300 pre-orders)
📖 Bookmark
📖 Temporary tattoo
📖 Stickers
Details hereThe Deceivers by Kristen Simmons
Release Date: February 5, 2019
Pre-order links:
Amazon | Barnes & Noble | Book Depository | Indiebound | Wordery


Pre-order and you'll get (US Only):
📖 Enamel pin
Details hereBloodwitch by Susan Dennard
Release Date: February 12, 2019
Pre-order links:
Amazon | Barnes & Noble | Book Depository | Indiebound | Wordery


Pre-order and you'll get (US Only):
📖 1 Mountain bat enamel pin
📖 1 Sea fox enamel pin
Details here
Spectacle by Jodie Lynn Zdrok
Release Date: February 12, 2019
Pre-order links:
Amazon | Barnes & Noble | Book Depository | Indiebound | Wordery


Pre-order and you'll get (INT'L):
📖 a personalized bookplate or bookmark
📖 a Paris-themed notecard or postcard
📖 violet candies to ONE random winner
Details hereDark Age by Pierce Brown
Release Date: February 12, 2019
Pre-order links:
Amazon | Barnes & Noble | Book Depository | Indiebound | Wordery


Pre-order and you'll get (US Only):
📖 A  holiday card directly from Pierce Brown, featuring never-before-seen character art!
Details hereSecret in the Stone by Kamilla Benko
Release Date: February 19, 2019
Pre-order links:
Amazon | Barnes & Noble | Book Depository | Indiebound | Wordery


Pre-order and you'll get:
📖 A Poster of the UK Edition of Secret of the Stone
📖 Signed bookplate
📖 A Unicorn Quest bookmark
Details hereImmoral Code by Lillian Clark
Release Date: February 19, 2019
Pre-order links:
Amazon | Barnes & Noble | Book Depository | Indiebound | Wordery


Pre-order and you'll get a chance to win:
📖 An annotated ARC of Immoral Code
📖 Immoral Code tote bag
Details hereWe Set the Dark on Fire by Tehlor Kay Mejia
Release Date: February 26, 2019
Pre-order links:
Amazon | Barnes & Noble | Book Depository | Indiebound | Wordery


Pre-order and you'll get (INT'L — First 50 pre-order):
📖 Character card of your choice
📖 Signed bookplate
Details hereFour Dead Queens by Astrid Scholte
Release Date: February 26, 2019
Pre-order links:
Amazon | Barnes & Noble | Book Depository | Indiebound | Wordery


Pre-order and you'll get (US Only):
📖 Your choice of one Welcome Quadara Pin
Details hereTell Me Everything by Sarah Enni
Release Date: February 26, 2019
Pre-order links:
Amazon | Barnes & Noble | Book Depository | Indiebound | Wordery


Pre-order and you'll get a chance to win:
📖 ARCs of If I'm Being Honest by Austin Siegemund-Broka & Emily Wibberley and Tell Me How You Really Feel by Aminah Mae Safi
📖 Tell Me Everything and @FirstDraftPod swag
Details hereAn Affair of Poisons by Addie Thorley
Release Date: February 26, 2019
Pre-order links:
Amazon | Barnes & Noble | Book Depository | Indiebound | Wordery


Pre-order and you'll get (INT'L):
📖 Bookmark
📖 Signed bookplate
📖 3 limited edition character art cards

Grand prize winner will get:
📖 2 limited edition An Affair of Poisons buttons
📖 Leather bound grimoire journal
📖 Flower bottle necklace
📖 Paper back copies of Blood Rose Rebellion by Rosalyn Eves, Gunslinger Girl by Lyndsay Ely, Shimmer and Burn by Mary Taranta, and A Criminal Magic by Lee Kelly
Details hereThe Priory of the Orange Tree by Samantha Shannon
Release Date: February 26, 2019
Pre-order links:
Amazon | Barnes & Noble | Book Depository | Indiebound | Wordery


Pre-order and you'll get:
📖 The Priory of the Orange Tree exclusive signed poster
Details hereThe Fever King by Victoria Lee
Release Date: March 1, 2019
Pre-order links:
Amazon | Barnes & Noble | Book Depository | Indiebound | Wordery


Pre-order and you'll get (INT'L):
📖 Signed bookplate
📖 Bookmark
📖 "Those jeans're so tight I can see your religion" sticker
📖 Noam flair pin (US only)*
📖 Character art cards feat. Noam and Dara

Grand prize winner will get:
📖 Pre-order swags
📖 TFK-branded playing cards
📖 Durham enamel pin
📖 Kindle loaded with 5 books of your choice
Details hereIf You're Out There by Katy Loutzenhiser
Release Date: March 5, 2019
Pre-order links:
Amazon | Barnes & Noble | Book Depository | Indiebound | Wordery


Pre-order and you'll get (INT'L):
📖 Signed bookplate
📖 Bookmark
📖 Sticker
📖 Enamel pin (US Only)
Details hereThe Shadowglass by Rin Chupeco
Release Date: March 5, 2019
Pre-order links:
Amazon | Barnes & Noble | Book Depository | Indiebound | Wordery


Pre-order and you'll get (INT'L):
📖 A short story from Kalen's point-of-view
📖 A custom Tea sticker while supplies last.
📖 Bone Witch series enamel pin (first 75 entrants)
Details hereYou Asked for Perfect by Laura Silverman
Release Date: March 5, 2019
Pre-order links:
Amazon | Barnes & Noble | Book Depository | Indiebound | Wordery


Pre-order and you'll get:
📖 One of four different magnetic bookmarks designed as the characters Ariel, Amir, Sook, and Malka (the character will be chosen randomly)

3 Grand prize winners will get:
A full set of all four characters magnetic bookmarks
Details hereSeventh Grade Vs. the Galaxy by Joshua S. Levy
Release Date: March 5, 2019
Pre-order links:
Amazon | Barnes & Noble | Book Depository | Indiebound | Wordery


Pre-order at Word Bookstores and you'll get:
📖 Exclusive PosterAll the Walls of Belfast by Sarah Carlson
Release Date: March 12, 2019
Pre-order links:
Amazon | Barnes & Noble | Book Depository | Indiebound | Wordery


Pre-order and you'll get:
📖 All the Walls of Belfast prequel
Details here

Request All the Walls of Belfast from Local Library and you'll get:
📖 Signed custom bookplate
📖 Postcard
📖 Stickers
Details hereThe Waking Forest by Alyssa Wees
Release Date: March 12, 2019
Pre-order links:
Amazon | Barnes & Noble | Book Depository | Indiebound | Wordery


Pre-order and you'll get (INT'L):
📖 Signed bookplate
📖 Bookmark
📖 Sticker

Grand prize winner will get:
📖 Key chain
📖 Fox enamel pin
📖 Temporary rose tattoos
📖 Fox socks
Details hereBeware the Night by Jessica Fleck
Release Date: March 12, 2019
Pre-order Links:
Amazon | Barnes & Noble | Book Depository | Indiebound | Wordery


Pre-order and you'll get (INT'L):
Tier 1
📖 Beware the Night bookmark
📖 One sticker with quote
📖 One glass fish (similar to that which Dorian gives Veda)

3 Winners will get (US Only):
Tier 2
📖 Gifts from Tier 1
📖 A brass hourglass necklace (like Veda, Nico, & Dorian wear)
📖 A "light & dark" flor de lis notebook
📖 Gold extra fine sharpie

One winner will get (US Only):
Tier 3
📖 Gifts from Tier 1
📖 A mini wooden hourglass
📖 A sun yellow journal, a set of silver
📖 Gold extra fine sharpie
📖 A fish pencil case
📖 A lemon 'Blessings' soy candle
Details hereBloodleaf by Crystal Smith
Release Date: March 12, 2019
Pre-order links:
Amazon | Barnes & Noble | Book Depository | Indiebound | Wordery


Pre-order and you'll get (US only):
📖 Exclusive notebook
📖 Map of Achleva
Details hereThe Next to Last Mistake by Amalie Jahn
Release Date: March 19, 2019
Pre-order links:
Amazon | Barnes & Noble | Book Depository | Indiebound | Wordery


Pre-order and you'll get (US Only):
📖 Bookmark
📖 Signed bookplate

Unlocks the big four prize packs, inspired by each girl in THE NEXT TO LAST MISTAKE (after 25, 50, 75, and 100 entries):
Summer's prize pack at 25 entries:
📖 A mini perfume
📖 A selection of nail polishes
📖 A hand & nail mask
📖 body butter
📖 A pair of fuzzy socks

Alice's prize pack at 50 entries:
📖 A pencil case with pens
📖 A pack of gum
📖 A notebook

Tess's prize pack at 75 entries:
📖 An adorable cow plush named Sunshine
📖 A pack of cow stickers
📖 A MOO decal

Leonetta's prize pack at 100 entries:
📖 A journal
📖 Two hair scrunchies
📖 A pouch
📖 $10 Barnes and Noble gift card
Details hereWinter War Awakening by Rosalyn Eves
Release Date: March 19, 2019
Pre-order links:
Amazon | Barnes & Noble | Book Depository | Indiebound | Wordery


Pre-order and you'll get (US Only):
📖 Signed bookplate
📖 Three bookmarks
📖 Crow enamel pin

INT'L will get:
📖 An exclusive art card by Rosalyn Eves
Details here
To Best the Boys by Mary Weber
Release Date: March 19, 2019
Pre-order links:
Amazon | Barnes & Noble | Book Depository | Indiebound | Wordery


Pre-order and you'll get:
📖 To Best The Boys labyrinth maze
📖 To Best The Boys playlist
📖 Bookish Rhen Paper Doll
📖 A brand new STORM SIREN NOVELLA ebook
Details hereOnce & Future by Amy Rose Capetta & Cori McCarthy
Release Date: March 26, 2019
Pre-order links:
Amazon | Barnes & Noble | Book Depository | Indiebound | Wordery


Pre-order and you'll get (US Only):
📖 Signed bookplate
📖 Lenticular bookmark
📖 Mini poster
Details hereSky Without Stars by Jessica Brody & Joanne Rendell
Release Date: March 26, 2019
Pre-order links:
Amazon | Barnes & Noble | Book Depository | Indiebound | Wordery


Pre-order and you'll get (INT'L):
📖 A two-sided 12"x16" poster featuring a limited edition full-color version of the book's map
📖 An autographed Sky Without Stars bookplate, signed by both authors
📖 A Sky Without Stars bookmark
📖 A Sky Without Stars postcard
Details hereThe Last Voyage of Poe Blythe by Ally Condie
Release Date: March 26, 2019
Pre-order links:
Amazon | Barnes & Noble | Book Depository | Indiebound | Wordery


Pre-order and you'll get (US Only):
📖 Exclusive deluxe leather bookmark
Details hereThe Girl He Used to Know by Tracey Garvis Graves
Release Date: April 2, 2019
Pre-order links:
Amazon | Barnes & Noble | Book Depository | Indiebound | Wordery


Pre-order and you'll get (US & CAN):
📖 Signed bookplate
Details hereWhite Rose by Kip Wilson
Release Date: April 2, 2019
Pre-order links:
Amazon | Barnes & Noble | Book Depository | Indiebound | Wordery


Pre-order and you'll get (INT'L):
📖 Bookmark
📖 Sticker

3rd Prize – 3 winners will get (US Only):
📖 White rose enamel pin
📖 Swag pack

2nd Prize – 2 winners will get (US Only):
📖 Rrose-themed notebooks
📖 Swag pack

Grand prize winner will get (US Only):
📖 Mini Playmobil figure of Johann Wolfgang von Goethe
📖 Swag pack
Details hereThe Princess and the Fangirl by Ashley Poston
Release Date: April 2, 2019
Pre-order links:
Amazon | Barnes & Noble | Book Depository | Indiebound | Wordery


Pre-order and you'll get (INT'L):
📖 An exclusive short story about Elle and Darien's first date written by Ashley Poston
📖 A gorgeous piece of fanart by Margaret Owen
Details here

Descendant of the Crane by Joan He
Release Date: April 9, 2019
Pre-order links:
Amazon | Barnes & Noble | Book Depository | Indiebound | Wordery


Pre-order and you'll get (INT'L):
📖 4 out of 5 character cards (selected randomly)
📖 preorders will also receive a rose gold bookmark
Details hereThrough the White Wood by Jessica Leake
Release Date: April 9, 2019
Pre-order links:
Amazon | Barnes & Noble | Book Depository | Indiebound | Wordery


Pre-order and you'll get:
📖 Signed bookmark
📖 Character art printed on a postcard-size card of the two MCs in Through the White Wood
Details hereWhen We Left Cuba by Chanel Cleeton
Release Date: April 9, 2019
Pre-order links:
Amazon | Barnes & Noble | Book Depository | Indiebound | Wordery


Pre-order at Fountain Bookstore and you'll get:
📖 Limited-edition recipe card inspired by a recipe from Chanel's grandmother
📖 Order special deluxe package and receive a stunning lipstick from Besamé Cosmetics
Details hereAn Anatomy of Beast by Olivia A. Cole
Release Date: April 16, 2019
Pre-order links:
Amazon | Barnes & Noble | Book Depository | Indiebound | Wordery


Pre-order / Library request and you'll get:
📖 Enamel pins designed by Hafsah Faizal (author of WE HUNT THE FLAME)
📖 Original art created by Sara Alfgeeh
📖 Faloiv world map
Details hereViper by Bex Hogan
Release Date: April 18, 2019
Pre-order links:
Amazon | Book Depository | Wordery | Waterstones | Hive


Pre-order and you'll get:
📖 A set of 6 bookmarks inspired by the Isles of Storm & Sorrow series
Details here

The Tiger at Midnight by Swati Teerdhala
Release Date: April 23, 2019
Pre-order links:
Amazon | Barnes & Noble | Book Depository | Indiebound | Wordery


Pre-order / Library request and you'll get (INT'L):
📖 Signed bookplate
📖 Bookmark
📖 2 exclusive, custom illustrated character cards
Details hereHot Dog Girl by Jennifer Dugan
Release Date: April 30, 2019
Pre-order links:
Amazon | Barnes & Noble | Book Depository | Indiebound | Wordery


Pre-order / Library request and you'll get (INT'L):
📖 A set of these 6 vinyl character stickers featuring the art of Little Corvus
Details hereKing of Fools by Amanda Foody
Release Date: April 30, 2019
Pre-order links:
Amazon | Barnes & Noble | Book Depository | Indiebound | Wordery


Pre-order and you'll get (INT'L):
📖 Exclusive Vianca Augustine short story
Details hereBrief Chronicle of Another Stupid Heartbreak by Adi Alsaid
Release Date: April 30, 2019
Pre-order links:
Amazon | Barnes & Noble | Book Depository | Indiebound | Wordery


Pre-order and you'll get:
📖 A personalized, autographed postcard
Details hereA Thousand Years to Wait by L. Ryan Storms
Release Date: April 30, 2019
Pre-order links:
Amazon | Barnes & Noble | Book Depository | Indiebound | Wordery


Pre-order and you'll get:
📖 Talisman necklace (First 15 pre-order)
Details hereWe Hunt the Flame by Hafsah Faizal
Release Date: May 14, 2019
Pre-order links:
Amazon | Barnes & Noble | Book Depository | Indiebound | Wordery


Pre-order and you'll get (INT'L):
📖 A limited edition set of 5 character cards featuring art by Arz28
Details hereRomanov by Nadine Brandes
Release Date: May 7, 2019
Pre-order links:
Amazon | Barnes & Noble | Book Depository | Indiebound | Wordery


Pre-order and you'll get (INT'L):
📖 Nadine's exclusive annotated notes from Romanov chapters
📖 A downloadable recipe card from the book
📖 A watercolor Romanov bookmark (pictured below)
📖 A quote sticker (pictured below)
📖 A printed recipe card
📖 A signed bookplate
Details hereFinale by Stephanie Garber
Release Date: May 7, 2019
Pre-order links:
Amazon | Barnes & Noble | Book Depository | Indiebound | Wordery


Pre-order and you'll get (US Only):
📖 A "Deck of Destiny" for first 1,500 readers to send pre-order receipt
📖 A signed bookplate for the next 3,500 lucky readers
Details hereShouting at the Rain by Lynda Mullaly Hunt
Release Date: May 7, 2019
Pre-order links:
Amazon | Barnes & Noble | Book Depository | Indiebound | Wordery


Pre-order and you'll get:
📖 Discussion Guide
📖 Tote Bag
📖 Poster
Details hereAsk Me Anything by Molly E. Lee
Release Date: May 7, 2019
Pre-order links:
Amazon | Barnes & Noble | Book Depository | Indiebound | Wordery


Pre-order and you'll get (INT'L):
📖 Girl Coder bracelet by Arie & Co.
📖 Signed bookmark
📖 Ask Me Anything magnet
Note: Those who pre-order an E-book will receive 20 grand prize entries and those who pre-order a Print copy will receive 30 grand prize entries.

Grand prize winner will get:
📖 Signed-copy of Ask Me Anything
📖 Microsoft Surface Pro 6 with keyboard and pen
📖 Amber's Zox bracelet
📖 Arrow extra-large Book Beau
📖 Custom Ask Me Anything tumbler
📖 Two Disney ColorPop lipsticks
​📖 Hackers Blu-ray
Details hereDon't Date Rosa Santos by Nina Moreno
Release Date: May 14, 2019
Pre-order links:
Amazon | Barnes & Noble | Book Depository | Indiebound | Wordery


Pre-order / Library request and you'll get (INT'L):
📖 Checkout card from Port Coral Library as bookplate
📖 Bookmark
📖 Postcard

Grand prize winner will get:
📖 A Saint Rosa of the Sea print by Alex Castellanos
📖 Two handmade salt soap bars (Caribbean Sea Salt + Sea Salt and Lemon) from Cassava Handcrafted Bath & Body, a Cuban-American owned business.
📖 A woven adjustable wave friendship bracelet handmade by Simplicity Co by Edith
Details here

I Wish You All the Best by Mason Deaver
Release Date: May 14, 2019
Pre-order links:
Amazon | Barnes & Noble | Book Depository | Indiebound | Wordery


Pre-order / Library request and get a chance to win:
📖 A book bundle + signed books from Becky Albertalli & Nic Stone
📖 Non-binary book/writing planner
📖 Exclusive I Wish You All the Best button
📖 Signed poster of I Wish You All the Best cover designed by Sarah Maxwell and Nina Goffi
Details hereThere's Something About Sweetie by Sandhya Menon
Release Date: May 14, 2019
Pre-order links:
Amazon | Barnes & Noble | Book Depository | Indiebound | Wordery


Pre-order and you'll get:
📖 Signed bookplate
📖 Ash+Sweetie print
📖 Keychain
📖 A digital cell phone/tablet background of Ash+Sweetie print (for INT'L pre-order)
Details hereNo Place Like Here by Christina June
Release Date: May 21, 2019
Pre-order links:
Amazon | Barnes & Noble | Book Depository | Indiebound | Wordery


Pre-order and you'll get digital incentives (INT'L):
📖 Book club discussion and questions
📖 Book quote poster
📖 Behind the book letter from the author
Details here

Make a library request and you'll get (INT'L):
📖 Set of stickers
📖 Signed bookmark
Note: Gifts for those who pre-order via online retailers will be announced soon.
Details hereKingsbane by Claire Legrand
Release Date: May 21, 2019
Pre-order links:
Amazon | Barnes & Noble | Book Depository | Indiebound | Wordery


Pre-order and you'll get:
📖 Signed bookplate
📖 Enamel pin
Details hereGirl Gone Viral by Arvin Ahmadi
Release Date: May 21, 2019
Pre-order links:
Amazon | Barnes & Noble | Book Depository | Indiebound | Wordery


Pre-order and you'll get:
📖 Exclusive Decal pack
Details hereThe Missing Season by Gillian French
Release Date: May 21, 2019
Pre-order link:
Amazon | Barnes & Noble | Book Depository | Indiebound | Wordery


Pre-order from The Briar Patch and you'll get:
📖 Morbid lapel pin
📖 Day of the Dead iron-on skull patch (styles vary)
📖 Organic TMS cherry lip gloss
📖 Halloween wind-up (styles vary)
📖 Postcard
📖 Sterling silver jack-o'-lantern charm with spooky children's rhyme from the book
Details hereThese Witches Don't Burn by Isabel Sterling
Release Date: May 28, 2019
Pre-order links:
Amazon | Barnes & Noble | Book Depository | Indiebound | Wordery


Pre-order / Library request and you'll get (INT'L):
📖 A set of exclusive character stickers
Details hereWithin and Without by Deborah Maroulis
Release Date: May 28, 2019
Pre-order link:
Amazon | Barnes & Noble | Book Depository | Indiebound | Wordery


Pre-order / Library request and you'll get (INT'L):
📖 Bookmark
📖 Postcard
📖 Within and Without stickers, one of the cover and one quote
📖 Panayis-approved ceramic pin

Grand prize winner will get:
📖 Pre-order swag
📖 Apple-shaped key chain/photo frame
📖 Exclusive Within and Without tote
Details hereThe Kingdom by Jess Rothenberg
Release Date: May 28, 2019
Pre-order link:
Amazon | Barnes & Noble | Book Depository | Indiebound | Wordery


Pre-order and you'll get:
📖 Signed bookplate
📖 Bookmark
📖 Invitation postcard
📖 Exclusive Welcome to the Kingdom sticker
Details hereSwitchback by Danika Stone
Release Date: May 28, 2019
Pre-order links:
Amazon | Barnes & Noble | Book Depository | Indiebound | Wordery


Pre-order / Library request and you'll get (INT'L):
📖 Signed bookplate
📖 bookmark
📖 postcard
Details hereBeholder by Anna Bright
Release Date: June 4, 2019
Pre-order links:
Amazon | Barnes & Noble | Book Depository | Indiebound | Wordery


Pre-order / Library request and get a chance to win (3 US winners):
📖 3 cross stitches
Details hereI Wanna Be Where You Are by Kristina Forest
Release Date: June 4, 2019
Pre-order links:
Amazon | Barnes & Noble | Book Depository | Indiebound | Wordery


Pre-order / Library request and you'll get (US only):
📖 Chloe and Eli 5×7 print (original art by Alex Cabal)
📖 Chloe enamel pin designed by Alex Cabal
📖 Bookmark designed by Diana Sousa
Details hereThe Rest of the Story by Sarah Dessen
Release Date: June 4, 2019
Pre-order links:
Amazon | Barnes & Noble | Book Depository | Indiebound | Wordery


Pre-order and you'll get (US only):
📖 A book-themed beach tote
Details hereThe Spies of Shilling Lane by Jennifer Ryan
Release Date: June 4, 2019
Pre-order link:
Amazon | Barnes & Noble | Book Depository | Indiebound | Wordery


Pre-order and you'll get:
📖 an unpublished chapter of THE CHILBURY LADIES' CHOIR

Grand prize winner will get:
📖 A paperback copy of THE CHILBURY LADIES' CHOIR
📖 A THE SPIES OF SHILLING LANE pad
📖 A Spies Mug
📖 Three Spies bookmarks
📖 Spies English fudge and candy
Details hereShadow & Flame by Mindee Arnett
Release Date: June 4, 2019
Pre-order link:
Amazon | Barnes & Noble | Book Depository | Indiebound | Wordery


Pre-order and you'll get (INT'L):
📖 Set of character cards
📖 Signed bookplate
Details hereMidsummer's Mayhem by Rajani LaRocca
Release Date: June 11, 2019
Pre-order links:
Amazon | Barnes & Noble | Book Depository | Indiebound | Wordery


Pre-order / Library request and you'll get (INT'L):
📖 Signed bookplate
📖 Bookmark
📖 Sticker sheet
📖 An electronic copy (PDF) of a special MIDSUMMER'S MAYHEM COOKBOOK that contains all the recipes from the book!

Five winners will get (US only):
📖 Midsummer's Mayhem Pin

Grand prize winner will get (US only):
📖 Swag pack
📖 Customized apron
Details hereStorm and Fury by Jennifer L. Armentrout
Release Date: June 11, 2019
Pre-order links:
Amazon | Barnes & Noble | Book Depository | Indiebound | Wordery


Pre-order from Fountain Bookstore and you'll get:
📖 Signed bookmark
📖 Order premiere package and receive a Book Beau bag
Details hereStronger Than a Bronze Dragon by Mary Fan
Release Date: June 11, 2019
Pre-order links:
Amazon | Barnes & Noble | Book Depository | Indiebound | Wordery


Pre-order / Library request and you'll get (INT'L):
📖 Signed postcard
📖 A magnet
📖 A red envelope containing a mystery prize
Details hereMrs. Everything by Jennifer Weiner
Release Date: June 11, 2019
Pre-order links:
Amazon | Barnes & Noble | Book Depository | Indiebound | Wordery


Pre-order and you'll get (US only):
📖 Exclusive embroidered patch
Details hereTeeth in the Mist by Dawn Kurtagich
Release Date: June 11, 2019
Pre-order links:
Amazon | Barnes & Noble | Book Depository | Indiebound | Wordery


Pre-order and you'll get:
📖 One of eight exclusive pre-order gifts
Details hereThe Paper and Hearts Society by Lucy Powrie
Release Date: June 13, 2019
Pre-order links:
Amazon UK | Book Depository | Wordery | Waterstones | Hive


Pre-order and you'll get:
📖 Official The Paper and Hearts Society membership pin
Details hereSomething Like Gravity by Amber Smith
Release Date: June 18, 2019
Pre-order links:
Amazon | Barnes & Noble | Book Depository | Indiebound | Wordery


Pre-order and you'll get:
📖 Special swag bag (bookmarks, stickers, pins and more!)
Details hereWicked Fox by Kat Cho
Release Date: June 25, 2019
Pre-order links:
Amazon | Barnes & Noble | Book Depository | Indiebound | Wordery


Pre-order / Library request and you'll get (INT'L):
📖 Exclusive set of Wicked Fox character cards
Details hereThe Evil Queen by Gena Showalter
Release Date: June 25, 2019
Pre-order links:
Amazon | Barnes & Noble | Book Depository | Indiebound | Wordery


Pre-order and you'll get (US & Canada):
📖 Evil Queen golden apple necklace
Details hereCall It What You Want by Brigid Kemmerer
Release Date: June 25, 2019
Pre-order links:
Amazon | Barnes & Noble | Book Depository | Indiebound | Wordery


Pre-order and you'll get:
📖 Signed bookplate
📖 Exclusive digital bonus content set in the Letters to the Lost/More Than We Can Tell universe

Grand prize winner will get:
📖 A character named after you in a future published book
Details hereQueen of Ruin by Tracy Banghart
Release Date: July 2, 2019
Pre-order links:
Amazon | Barnes & Noble | Book Depository | Indiebound | Wordery


Pre-order / Library request and you'll get:
📖 Enamel pin, designed by Hafsah Faizal of Icey Designs
📖 A postcard with a hand-lettered quote from QUEEN OF RUIN (Also designed by Hafsah)
📖 Signed bookplate
📖 Full-color map designed by Jessica Khoury of Lizard Ink Maps

📖 Signed postcard for INT'L pre-order
Details hereThe Last Word by Samantha Hastings
Release Date: July 9, 2019
Pre-order links:
Amazon | Barnes & Noble | Book Depository | Indiebound | Wordery


Pre-order / Library request and you'll get (INT'L):
📖 Signed bookplate
📖 Bookmark
📖 Sticker
📖 Vintage-style handkerchief
Details hereSpin the Dawn by Elizabeth Lim
Release Date: July 9, 2019
Pre-order links:
Amazon | Barnes & Noble | Book Depository | Indiebound | Wordery


Pre-order and you'll get (INT'L):
📖 A complete set of character cards, art by Kat Adara
📖 Bookmark
📖 A "Seize the Wind" sticker, art by Isabel Ibañez
📖 An exclusive print, art by Beverly Love
📖 Signed bookplate (for hardcover orders only)
📖 Spin the Dawn enamel pin for orders from Books of Wonder

Library request and you'll get:
📖 Bookmark
📖 2 character cards, art by Kat Adara
📖 An exclusive print, art by Beverly Love

3 Grand prize winners (drawn by lottery) will get:
📖 A Mejuri necklace (sun, moon, or stars to be selected at random)
📖 A Glossier moon lidstar
📖 An exclusively handcrafted silk flowers comb​
Details here

Note: When you pre-order Spin the Dawn, Wilder Girls, House of Salt and Sorrows, you can also get Underlined pillowcases. More details here.Me Myself & Him by Chris Tebbetts
Release Date: July 9, 2019
Pre-order links:
Amazon | Barnes & Noble | Book Depository | Indiebound | Wordery


For every 10 pre-order giveaway entries, the author will draw one t-shirt winner at random and the Grand prize winner will get:
📖 2 Me Myself & Him t-shirts
📖 A book stack of the author's favorite LGBTQ+ titles
📖 Five free pints of Ben & Jerry's (Vermont's finest!) ice cream
📖 A 30-minute Skype visit with the author for your book club, your kid's class at school, an LGBTQ-serving community organization, or anywhere you like!

Note: For every entry, $1.00 will be donated to Pride Center of Vermont, New England's most comprehensive community center dedicated to advancing community and the health and safety of the Lesbian, Gay, Bisexual, Transgender, and Queer (LGBTQ) Vermonters.
Details herePast Perfect Life by Elizabeth Eulberg
Release Date: July 9, 2019
Pre-order links:
Amazon | Barnes & Noble | Book Depository | Indiebound | Wordery


Pre-order and you'll get:
📖 Signed bookplate
📖 A lenticular Past Perfect Life bookmark
Details hereStealing Home by Becky Wallace
Release Date: July 9, 2019
Pre-order links:
Amazon | Barnes & Noble | Book Depository | Indiebound | Wordery


Pre-order / Library request and you'll get (US only):
📖 Bookmark
📖 Postcard
📖 Signed bookplate
📖 A baseball charm wish bracelet

Grand prize winner will get (INT'L):
📖  The swag pack, the wrap bracelet, the silver baseball charm bracelet, and the baseball stitch ring
📖  A pre-order of one YA book of their choice.
Details hereThe Storm by Kalyn Josephson
Release Date: July 9, 2019
Pre-order links:
Amazon | Barnes & Noble | Book Depository | Indiebound | Wordery


Pre-order and you'll get:
📖 Amazing character cards designed by Monica A. Borg
Details here The Traitor's Kingdom by Erin Beaty
Release Date: July 9, 2019
Pre-order links:
Amazon | Barnes & Noble | Book Depository | Indiebound | Wordery


Pre-order and you'll get (INT'L):
📖 1 bookmark from each of the three books in the trilogy with a pretty image and a thematic quote
📖 Signed book sticker(s) for your purchased copies
Details hereWilder Girls by Rory Power
Release Date: July 9, 2019
Pre-order links:
Amazon | Barnes & Noble | Book Depository | Indiebound | Wordery


Pre-order and you'll get (US Only, Ends August 6):
📖 Underlined pillowcase
Details hereJade War by Fonda Lee
Release Date: July 23, 2019
Pre-order links:
Amazon | Barnes & Noble | Book Depository | Indiebound | Wordery


Purchase the Jade War and you'll get a chance to receive (INT'L, Ends July 31):
📖 Signed bookplate
📖 A postcard of the Green Bone oath
📖 A vinyl No Peak clan sticker
Details hereThe Merciful Crow by Margaret Owen
Release Date: July 30, 2019
Pre-order links:
Amazon | Barnes & Noble | Book Depository | Indiebound | Wordery


Pre-order / Library request and you'll get (US only, Ends August 6):
📖 Character Cards
📖 Signed bookplate
📖 3 Crow mark stickers + 1 title sticker
📖 Bookmark

INT'L pre-order will get:
📖 Exclusive digital swag
Details hereThe Miraculous by Jess Redman
Release Date: July 30, 2019
Pre-order links:
Amazon | Barnes & Noble | Book Depository | Indiebound | Wordery


Pre-order / Library request and you'll get (INT'L, Ends August 5):
📖 Bookmark
📖 Sticker
📖 One of three art cards featuring cover art by the amazing Matt Rockefeller

10 Winners will get:
📖 Bookmark
📖 Sticker
📖 All three art cards
📖 Dried Flower Pendant Necklace

Grand prize winner will get:
📖 Dried flower necklace from The Pretty Pickle
📖 Miracle journal
📖 Three bookish enamel pins
📖 6 books/ARCS
📖 All three art cards
📖 Miraculous sticker
📖 Miraculous Bookmark
Details hereHow the Light Gets In by Katy Upperman
Release Date: August 6, 2019
Pre-order links:
Amazon | Barnes & Noble | Book Depository | Indiebound | Wordery


Pre-order / Library request and you'll get (INT'L):
📖 Signed bookmark
📖 Vinyl watercolor poppy sticker
📖 Signed and personalized bookplate

Grand prize winner will get:
📖 Swag pack
📖 Tervis water color poppy 24 oz. water bottle
📖 Seaside + storm 7.2 oz soy candle from Bare Candle Co.
📖 Rifle Paper Co.'s botanical notebook collection
📖 "Shimmering Seas" glitter nail polish
📖 Addison & Gates "Ocean Breeze" hand cream
📖 Jelly beans
Details hereHouse of Salt and Sorrows by Erin A Craig
Release Date: August 6, 2019
Pre-order links:
Amazon | Barnes & Noble | Book Depository | Indiebound | Wordery


Pre-order and you'll get (US Only):
📖 Underlined pillowcase
Details hereSea Witch Rising by Sarah Henning
Release Date: August 6, 2019
Pre-order links:
Amazon | Barnes & Noble | Book Depository | Indiebound | Wordery


Pre-order and you'll get (INT'L):
📖 Signed bookplate
📖 Postcard

Grand prize winner will get:
📖 A signed copy of Sea Witch Rising
📖 Tarte Rainforest of the Sea High Tides & Good Vibes eyeshadow palette
📖 Tentacle pen
📖 #Socksunday-worthy mermaid socks
📖 What's Kraken? magnet
📖 Rifle Paper Co. mermaid notebook set
📖 Enamel pin
Details hereSwipe Right for Murder by Derek Milman
Release Date: August 6, 2019
Pre-order links:
Amazon | Barnes & Noble | Book Depository | Indiebound | Wordery


Pre-order and you'll get (US Only):
📖 Signed bookplate
📖 Cell phone grip-stand
📖 Button
Details here
---
Did you find this compiled list of pre-order campaigns helpful? Don't forget to share it on your social media platforms and maybe, just maybe…consider sending me a cuppa here?💙 This will immensely help me a lot! bn