Guess what month we're now in! It's the first day of BER month which means it's also the start of the fall season. The bookish in me is so excited because I'm sharing an amazing list of new releases this September where I roll call a total of 47 BOOKS! If you're not sure what to read next, I hope you can find at least one book that will pique your interest or anything that's base on your reading preference here on the list I made. Enjoy and happy reading everyone!
Ignite the Stars by Maura Milan
Publisher: Albert Whitman & Company


Buy links:
Amazon | Book Depository | Wordery | Indiebound
Synopsis:
Everyone in the universe knows his name. Everyone in the universe fears him. But no one realizes that notorious outlaw Ia Cocha is a seventeen-year-old girl.
A criminal mastermind and unrivaled pilot, Ia has spent her life terrorizing the Olympus Commonwealth, the imperialist nation that destroyed her home. When the Commonwealth captures her and her true identity is exposed, they see Ia's age and talent as an opportunity: by forcing her to serve them, they will prove that no one is beyond their control.
Soon, Ia is trapped at the Commonwealth's military academy, desperately plotting her escape. But new acquaintances—including Brinn, a seemingly average student with a closely-held secret, and their charming Flight Master, Knives—cause Ia to question her own alliances. Can she find a way to escape the Commonwealth's clutches before these bonds deepen?
In this exhilarating edge-of-your-seat sci-fi adventure—perfect for fans of The Lunar Chronicles—debut author Maura Milan introduces our world to a thrilling new heroine.
---
Josh and Hazel's Guide to Not Dating by Christina Lauren
Publisher: Gallery Books


Buy links:
Amazon | Book Depository | Wordery | Indiebound
Synopsis:
Hazel Camille Bradford knows she's a lot to take—and frankly, most men aren't up to the challenge. If her army of pets and thrill for the absurd don't send them running, her lack of filter means she'll say exactly the wrong thing in a delicate moment. Their loss. She's a good soul in search of honest fun.
Josh Im has known Hazel since college, where her zany playfulness proved completely incompatible with his mellow restraint. From the first night they met—when she gracelessly threw up on his shoes—to when she sent him an unintelligible email while in a post-surgical haze, Josh has always thought of Hazel more as a spectacle than a peer. But now, ten years later, after a cheating girlfriend has turned his life upside down, going out with Hazel is a breath of fresh air.
Not that Josh and Hazel date. At least, not each other. Because setting each other up on progressively terrible double blind dates means there's nothing between them…right?
---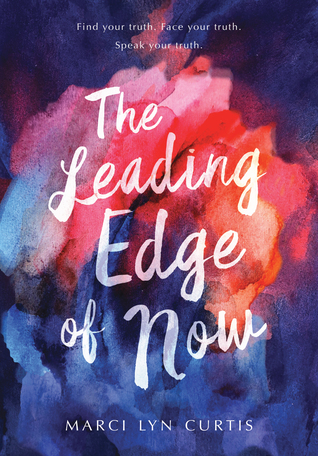 The Leading Edge of Now by Marci Lyn Curtis
Publisher: Kids Can Press


Buy links:
Amazon | Book Depository | Wordery | Indiebound
Synopsis:
Just when Grace is beginning to get used to being an orphan, her estranged uncle suddenly comes forward to claim her. That might have been okay if he'd spoken to her even once since her father died. Or if moving in with Uncle Rusty didn't mean returning to New Harbor.
Grace once spent the best summers of her life in New Harbor. Now the place just reminds her of all she's lost: her best friend, her boyfriend and any memory of the night that changed her forever.
People say the truth will set you free, but Grace isn't sure about that. Once she starts looking for it, the truth about that night is hard to find — and what happens when her healing hurts the people she cares about the most?
---
A Spark of White Fire by Sangu Mandanna
Publisher: Sky Pony Press


Buy links:
Amazon US | Book Depository |  Wordery | Indiebound
Synopsis:
In a universe of capricious gods, dark moons, and kingdoms built on the backs of spaceships, a cursed queen sends her infant daughter away, a jealous uncle steals the throne of Kali from his nephew, and an exiled prince vows to take his crown back.
Raised alone and far away from her home on Kali, Esmae longs to return to her family. When the King of Wychstar offers to gift the unbeatable, sentient warship Titania to a warrior that can win his competition, she sees her way home: she'll enter the competition, reveal her true identity to the world, and help her famous brother win back the crown of Kali.
It's a great plan. Until it falls apart.
Inspired by the Mahabharata and other ancient Indian stories, A Spark of White Fire is a lush, sweeping space opera about family, curses, and the endless battle between jealousy and love.
---
A Room Away From the Wolves by Nova Ren Suma
Publisher: Algonquin Young Readers


Buy links:
Amazon | Barnes & Noble | Wordery | Indiebound
Synopsis:
Bina has never forgotten the time she and her mother ran away from home. Her mother promised they would hitchhike to the city to escape Bina's cruel father and start over. But before they could even leave town, Bina had a new stepfather and two new stepsisters, and a humming sense of betrayal pulling apart the bond with her mother—a bond Bina thought was unbreakable.
Eight years later, after too many lies and with trouble on her heels, Bina finds herself on the side of the road again, the city of her dreams calling for her. She has an old suitcase, a fresh black eye, and a room waiting for her at Catherine House, a young women's residence in Greenwich Village with a tragic history, a vow of confidentiality, and dark, magical secrets. There, Bina is drawn to her enigmatic downstairs neighbor Monet, a girl who is equal parts intriguing and dangerous. As Bina's lease begins to run out, and nightmare and memory get tangled, she will be forced to face the terrible truth of why she's come to Catherine House and what it will take for her to leave…
---
The Splintered Light by Ginger Johnson
Publisher: Bloomsbury


Buy links:
Amazon | Book Depository | Wordery | Indiebound
Synopsis:
In a world without color, eleven-year-old Ishmael lives a monotonous existence, herding sheep and helping his widowed mother with their meager farm after the premature death of his father. Early one morning, a ray of light pierces a pane of glass in the barn, fragmenting Ishmael's black and white world into something extraordinary: a spectrum of color he never knew existed. Ishmael embarks on a search to understand just what it is that he sees, a search that leads him to the Hall of Hue, one of seven creative workshops at the Commons.
In The Splintered Light, Ginger Johnson creates an astonishing universe filled with color amid the gray.
---
Hole in the Middle by Kendra Fortmeyer
Publisher: Soho Teen


Buy links:
Amazon | Book Depository | Wordery | Indiebound
Synopsis:
Morgan Stone was born with a hole in her middle: a perfectly smooth, sealed, fist-sized chunk of nothing near her belly button. After seventeen years of hiding behind lumpy sweaters and a smart mouth, she's fed up with keeping her secret. On the dance floor one night, she decides to bare all.
At first she feels liberated . . . until a few online photos snowball into a media frenzy. Now Morgan is desperate to return to her own strange version of normal—when only her doctors, her divorced parents, and her best friend, Caro, knew the truth. But tragically Morgan's newfound openness and Internet celebrity seem to push those closest to her further and further away.
Then a new doctor appears with a boy who may be both Morgan's cure and her destiny. What happens when you meet the person who is—literally—your perfect match? Is being whole really all it's cracked up to be?
---
24 Hours in Nowhere by Dusti Bowling
Publisher: Sterling Children's Books


Buy links:
Amazon | Book Depository | Wordery | Indiebound
Synopsis:
Welcome to Nowhere, Arizona, the least livable town in the United States. For Gus, a bright 13-year-old with dreams of getting out and going to college, life there is made even worse by Bo Taylor, Nowhere's biggest, baddest bully. When Bo tries to force Gus to eat a dangerously spiny cactus, Rossi Scott, one of the best racers in Nowhere, comes to his rescue—but in return she has to give Bo her prized dirt bike. Determined to buy it back, Gus agrees to go searching for gold in Dead Frenchman Mine, joined by an old friend, one of Bo's cronies, and Rossi herself. As they race to find the treasure before the most important biking competition Nowhere has ever had, they bond over shared stories of how hard life in Nowhere is—and they realize this adventure just may be their way out. Author Dusti Bowling (Insignificant Events in the Life of a Cactus) returns to the desert to create a gripping story about friendship, hope, and finding the power we all have within ourselves.
---
When Elephants Fly by Nancy Richardson Fischer
Publisher: Harlequin Teen


Buy links:
Amazon | Book Depository | Wordery | Indiebound
Synopsis:
There are some battles worth fighting even if it means losing yourself.
T. Lily Decker is a high school senior with a twelve-year plan: avoid stress, drugs, alcohol and boyfriends, and take regular psych quizzes administered by her best friend, Sawyer, to make sure she's not developing schizophrenia.Genetics are not on Lily's side.
When she was seven, her mother, who had paranoid schizophrenia, tried to kill her. And a secret has revealed that Lily's odds are even worse than she thought. Still, there's a chance to avoid triggering the mental health condition, if Lily can live a careful life from ages eighteen to thirty, when schizophrenia most commonly manifests.
But when a newspaper internship results in Lily witnessing a mother elephant try to kill her three-week-old calf, Swifty, Lily can't abandon the story or the calf. With Swifty in danger of dying from grief, Lily must choose whether to risk everything, including her sanity and a first love, on a desperate road trip to save the calf's life, perhaps finding her own version of freedom along the way.
---
After Zero by Christina Collins
Publisher: Sourcebooks Jabberwocky


Buy links:
Amazon | Book Depository | Wordery | Indiebound
Synopsis:
Elise carries a notebook full of tallies, each page marking a day spent at her new public school, each stroke of her pencil marking a word spoken. A word that can't be taken back. Five tally marks isn't so bad. Two is pretty good. But zero? Zero is perfect. Zero means no wrong answers called out in class, no secrets accidentally spilled, no conversations to agonize over at night when sleep is far away.
But now months have passed, and Elise isn't sure she could speak even if she wanted to―not to keep her only friend, Mel, from drifting further away―or to ask if anyone else has seen her English teacher's stuffed raven come to life. Then, the discovery of a shocking family secret helps Elise realize that her silence might just be the key to unlocking everything she's ever hoped for…
---
The Benefits of Being an Octopus by Ann Braden
Publisher: Sky Pony Press


Buy links:
Amazon | Book Depository | Wordery | Indiebound
Synopsis:
Some people can do their homework. Some people get to have crushes on boys. Some people have other things they've got to do.
Seventh-grader Zoey has her hands full as she takes care of her much younger siblings after school every day while her mom works her shift at the pizza parlor. Not that her mom seems to appreciate it. At least there's Lenny, her mom's boyfriend—they all get to live in his nice, clean trailer.
At school, Zoey tries to stay under the radar. Her only friend Fuchsia has her own issues, and since they're in an entirely different world than the rich kids, it's best if no one notices them.
Zoey thinks how much easier everything would be if she were an octopus: eight arms to do eight things at once. Incredible camouflage ability and steady, unblinking vision. Powerful protective defenses.
Unfortunately, she's not totally invisible, and one of her teachers forces her to join the debate club. Even though Zoey resists participating, debate ultimately leads her to see things in a new way: her mom's relationship with Lenny, Fuchsia's situation, and her own place in this town of people who think they're better than her. Can Zoey find the courage to speak up, even if it means risking the most stable home she's ever had?
This moving debut novel explores the cultural divides around class and the gun debate through the eyes of one girl, living on the edges of society, trying to find her way forward.
---
When the Lights Go Out by Mary Kubica
Publisher: Park Row


Buy links:
Amazon | Book Depository | Wordery
Synopsis:
A woman is forced to question her own identity in this riveting and emotionally charged thriller by the blockbuster bestselling author of The Good Girl, Mary Kubica
Jessie Sloane is on the path to rebuilding her life after years of caring for her ailing mother. She rents a new apartment and applies for college. But when the college informs her that her social security number has raised a red flag, Jessie discovers a shocking detail that causes her to doubt everything she's ever known.
Finding herself suddenly at the center of a bizarre mystery, Jessie tumbles down a rabbit hole, which is only exacerbated by grief and a relentless lack of sleep. As days pass and the insomnia worsens, it plays with Jessie's mind. Her judgment is blurred, her thoughts are hampered by fatigue. Jessie begins to see things until she can no longer tell the difference between what's real and what she's only imagined.
Meanwhile, twenty years earlier and two hundred and fifty miles away, another woman's split-second decision may hold the key to Jessie's secret past. Has Jessie's whole life been a lie or have her delusions gotten the best of her?
---
The Hotel Between by Sean Easley
Publisher: Simon & Schuster Books for Young Readers


Buy links:
Amazon | Book Depository | Wordery
Synopsis:
Twins Cameron and Cassia Kuhn have never known their parents. They've been told their mother died, but their father's fate remains a mystery. Cass is certain their father abandoned them, but Cam isn't so sure. He wants to prove her wrong; he must, because they need a father to help them battle the surgeries Cass faces due to her spina bifida, and to lend their Oma a hand in taking care of them.
Cam's wish is granted while walking home from school the last day before winter break when he sees a sign—a glistening, golden sign with elaborate flourishes, that reads: The Hotel Between. And so the adventure begins.
With doors that open to countries all over the world, magical trollies, corridors that can be transported across the globe on a whim, stone elephants that turn to life, sweets made from rocks; everything is possible in The Hotel Between. But this is no vacation. Cam has a hunch that the coin his missing father left behind is the same coin given to staff and guests at the hotel. His father is somehow connected to this magical place, and may even be lost within its hidden halls.
But every journey has its risks, and The Hotel Between is full of secrets. Cam must learn who to trust as he braves the world in search of his father and finds his own destination.
---
Part of Your World by Liz Braswell
Publisher: Disney Press


Buy links:
Amazon | Book Depository | Wordery | Indiebound
Synopsis:
What if Ariel had never defeated Ursula?
Five years after the (twisted) events of the film, Ariel is now the queen of Atlantica, and Ursula is running Eric's kingdom on land. But when the sea witch threatens Atlantica once more, Ariel finds herself returning to a world (and a prince) she thought she'd left behind forever.
---
12 Before 13 by Lisa Greenwald
Publisher: Katherine Tegen Books


Buy links:
Amazon | Book Depository | Wordery | Indiebound
Synopsis:
Fans of Lauren Myracle and Wendy Mass will adore the second book in this hilarious series about two BFFs who master middle school with a list of twelve goals they MUST achieve before their thirteenth birthday.
Inspired by the success of their first birthday bucket list, Ari and her BFF Kaylan set twelve new goals for the next school year. And number one is "keep our friendship strong."
But after a life-changing summer at camp, Ari feels torn between Kaylan and her camp friends. And as she faces down everything from boys to bat mitzvahs, Ari needs to figure out how to be her best self—before her friends come together at her thirteenth birthday party.
Or the big win she and Kaylan were hoping for may become an epic fail.
---
Sadie by Courtney Summers
Publisher: Wednesday Books


Buy links:
Amazon | Book Depository | Wordery | Indiebound
Synopsis:
Sadie hasn't had an easy life. Growing up on her own, she's been raising her sister Mattie in an isolated small town, trying her best to provide a normal life and keep their heads above water.
But when Mattie is found dead, Sadie's entire world crumbles. After a somewhat botched police investigation, Sadie is determined to bring her sister's killer to justice and hits the road following a few meagre clues to find him.
When West McCray—a radio personality working on a segment about small, forgotten towns in America—overhears Sadie's story at a local gas station, he becomes obsessed with finding the missing girl. He starts his own podcast as he tracks Sadie's journey, trying to figure out what happened, hoping to find her before it's too late.
---
Not Even Bones by Rebecca Schaeffer
Publisher: HMH Books for Young Readers


Buy links:
Amazon | Book Depository | Wordery | Indiebound
Synopsis:
Dexter meets This Savage Song in this dark fantasy about a girl who sells magical body parts on the black market — until she's betrayed.
Nita doesn't murder supernatural beings and sell their body parts on the internet—her mother does that. Nita just dissects the bodies after they've been "acquired." Until her mom brings home a live specimen and Nita decides she wants out; dissecting a scared teenage boy is a step too far. But when she decides to save her mother's victim, she ends up sold in his place—because Nita herself isn't exactly "human." She has the ability to alter her biology, a talent that is priceless on the black market. Now on the other side of the bars, if she wants to escape, Nita must ask herself if she's willing to become the worst kind of monster.
---
Uncharted by Erin Cashman
Publisher: St. Martin's Press


Buy links:
Amazon | Barnes & Noble | Wordery | Indiebound
Synopsis:
Seventeen-year-old Annabeth prefers the fantasy of her books and paintings to reality—because in reality, her mom is dead, and it was all her fault. When she accompanies her father to the funeral of some family friends who drowned, she's surprised to find her grief reflected in the face of Griffin Bradford, the son of the couple who died. Griffin is nothing like the carefree boy she once knew. Now he's irritable, removed, and he's under police investigation for his parents' deaths.
One night following the memorial service, Annabeth's dad goes missing in the woods, and she suspects Griffin knows more about the disappearance than he's letting on. He refuses to answer her questions, particularly those related to the mysterious "expedition" his parents took to Ireland, where they went missing for seven months.
Annabeth fears her father isn't lost, but rather a victim of something sinister. She launches her own investigation, tracing clues that whisper of myth and legend and death, until she stumbles upon a secret. One that some would die to protect, others would kill to expose—and which twists Annabeth's fantasy and reality together in deadly new ways.
---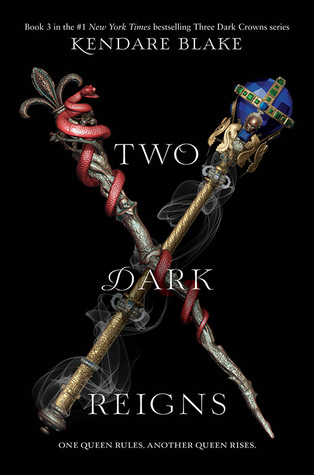 Two Dark Reigns by Kendare Blake
Publisher: HarperTeen


Buy links:
Amazon | Book Depository | Wordery | Indiebound
Synopsis:
#1 New York Times bestselling author Kendare Blake returns with the highly anticipated third book in the Three Dark Crowns series! And while Arsinoe, Mirabella, and Katharine all have their own scores to settle, they aren't the only queens stirring things up on Fennbirn Island.
Queen Katharine has waited her entire life to wear the crown. But now that she finally has it, the murmurs of dissent grow louder by the day. There's also the alarming issue of whether or not her sisters are actually dead—or if they're waiting in the wings to usurp the throne.
Mirabella and Arsinoe are alive, but in hiding on the minland and dealing with a nightmare of their own: being visited repeatedly by a specter they think might be the fabled Blue Queen. Though she says nothing, her rotting, bony finger pointing out to sea is clear enough: return to Fennbirn.
Jules, too, is in a strange place—in disguise. And her only confidants, a war-gifted girl named Emilia and her oracle friend Mathilde, are urging her to take on a role she can't imagine filling: a legion-cursed queen who will lead a rebel army to Katharine's doorstep.
This is an uprising that the mysterious Blue Queen may have more to do with than anyone could have guessed—or expected.
---
And the Ocean Was Our Sky by Patrick Ness
Publisher: Walker Books


Buy links:
Amazon | Book Depository | Wordery | Indiebound
Synopsis:
With harpoons strapped to their backs, the proud whales of Bathsheba's pod live for the hunt, fighting in the ongoing war against the world of men. When they attack a ship bobbing on the surface of the Abyss, they expect to find easy prey. Instead, they find the trail of a myth, a monster, perhaps the devil himself…
As their relentless Captain leads the chase, they embark on a final, vengeful hunt, one that will forever change the worlds of both whales and men.
Perfect Ten by Jacqueline Ward
Publisher:  Corvus Atlantic


Buy links:
Amazon UK | Book Depository | Wordery
Synopsis:
An explosive debut thriller about one woman's search for revenge – and the dangerous chain of events she sets in motion…
Caroline Atkinson is powerless and angry. She has lost more than most – her marriage, her reputation, even her children. Then one day, she receives an unusual delivery: lost luggage belonging to the very man who is responsible, her estranged husband Jack.
In a leather holdall, Caroline unearths a dark secret, one that finally confirms her worst suspicions. Jack has kept a detailed diary of all his affairs; every name, every meeting, every lie is recorded. He even marks the women out of ten.
Caroline decides it's time to even the score. She will make this man pay, even if it means risking everything…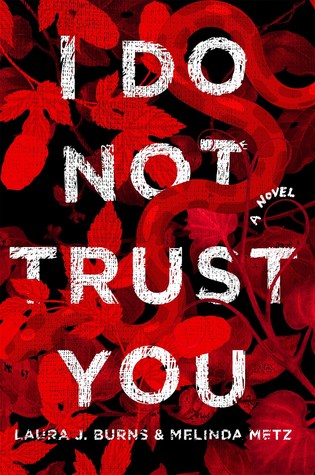 I Do Not Trust You by Laura J. Burns & Melinda Metz
Publisher: Wednesday Books


Buy links:
Amazon | Book Depository | Wordery | Indiebound
Synopsis:
Memphis "M" Engle is stubborn to a fault, graced with an almost absurd knowledge of long lost languages and cultures, and a heck of an opponent in a fight. In short: she's awesome.
Ashwin Sood is a little too posh for her tastes, a member of an ancient cult (which she's pretty sure counts for more than one strike against him), and has just informed Memphis that her father who she thought was dead isn't and needs her help.
From the catacombs of Paris to lost temples in the sacred forests, together they crisscross the globe, searching for the pieces of the one thing that might save her father. But the closer they come to saving him—and the more they fall for one another—the closer they get to destroying the world.
---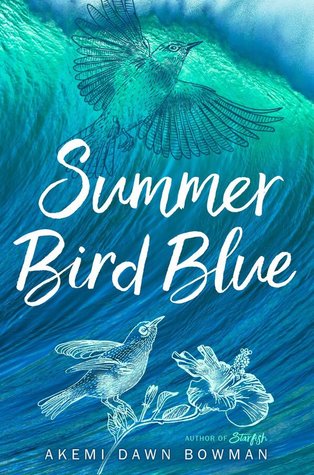 Summer Bird Blue by Akemi Dawn Bowman
Publisher: Simon Pulse


Buy links:
Amazon | Book Depository | Wordery | Indiebound
Synopsis:
Rumi Seto spends a lot of time worrying she doesn't have the answers to everything. What to eat, where to go, whom to love. But there is one thing she is absolutely sure of—she wants to spend the rest of her life writing music with her younger sister, Lea.
Then Lea dies in a car accident, and her mother sends her away to live with her aunt in Hawaii while she deals with her own grief. Now thousands of miles from home, Rumi struggles to navigate the loss of her sister, being abandoned by her mother, and the absence of music in her life. With the help of the "boys next door"—a teenage surfer named Kai, who smiles too much and doesn't take anything seriously, and an eighty-year-old named George Watanabe, who succumbed to his own grief years ago—Rumi attempts to find her way back to her music, to write the song she and Lea never had the chance to finish.
---
The Echo Room by Parker Peevyhouse
Publisher: Tor Teen


Buy links:
Amazon | Book Depository | Wordery | Indiebound
Synopsis:
Rett wakes on the floor of a cold, dark room. He doesn't know how he got there, only that he's locked in. He's not alone—a girl named Bryn is trapped in the room with him. When she finds a mysterious bloodstain and decides she doesn't trust Rett, he tries to escape on his own.
Rett wakes on the floor of the same cold, dark room. He doesn't trust Bryn, but he'll have to work with her if he ever hopes to escape. They try to break out of the room—
Rett and Bryn hide in a cold, dark room. Safe from what's outside.
But they're not alone.
---
As She Ascends by Jodi Meadows
Publisher: Katherine Tegen Books


Buy links:
Amazon |  Book Depository |  Wordery | Indiebound
MIRA, THE HOPEBEARER
Mira Minkoba is on the run with her friends after a fiery escape from the Pit, where she'd been imprisoned for defending the dragons she loves. And she wants answers. Where have all the dragons been taken? Why are powerful noorestones being shipped to the mainland? And did the treaty she's been defending her whole life truly sell out the Fallen Isles to their enemies?
MIRA, THE DRAGONHEARTED
As her connection to the dragons—and their power—grows stronger, so does Mira's fear that she might lose control and hurt someone she loves. But the only way to find the truth is to go home again, to Damina, to face the people who betrayed her and the parents she's not sure she can trust.
Home, where she must rise above her fears. Or be consumed.
The second page-turning novel in Jodi Meadows' Fallen Isles trilogy scorches with mysterious magic and riveting romance as one girl kindles a spark into a flame.
---
Intercepted by Alexa Martin
Publisher: Berkley Books


Buy links:
Amazon | Book Depository | Wordery | Indiebound
Synopsis:
Marlee thought she scored the man of her dreams only to be scorched by a bad breakup. But there's a new player on the horizon, and he's in a league of his own…
Marlee Harper is the perfect girlfriend. She's definitely had enough practice by dating her NFL-star boyfriend for the last ten years. But when she discovers he has been tackling other women on the sly, she vows to never date an athlete again. There's just one problem: Gavin Pope, the new hotshot quarterback and a fling from the past, has Marlee in his sights.
Gavin fights to show Marlee he's nothing like her ex. Unfortunately, not everyone is ready to let her escape her past. The team's wives, who never led the welcome wagon, are not happy with Marlee's return. They have only one thing on their minds: taking her down. But when the gossip makes Marlee public enemy number one, she worries about more than just her reputation.
Between their own fumbles and the wicked wives, it will take a Hail Mary for Marlee and Gavin's relationship to survive the season.
---
The Lantern's Ember by Colleen Houck
Publisher: Delacorte Press


Buy links:
Amazon | Book Depository | Wordery | Indiebound
Synopsis:
Welcome to a world where nightmarish creatures reign supreme.
Five hundred years ago, Jack made a deal with the devil. It's difficult for him to remember much about his mortal days. So, he focuses on fulfilling his sentence as a Lantern—one of the watchmen who guard the portals to the Otherworld, a realm crawling with every nightmarish creature imaginable. Jack has spent centuries jumping from town to town, ensuring that nary a mortal—or not-so-mortal—soul slips past him. That is, until he meets beautiful Ember O'Dare.
Seventeen, stubborn, and a natural-born witch, Ember feels a strong pull to the Otherworld. Undeterred by Jack's warnings, she crosses into the forbidden plane with the help of a mysterious and debonair vampire—and the chase through a dazzling, dangerous world is on. Jack must do everything in his power to get Ember back where she belongs before both the earthly and unearthly worlds descend into chaos.
---
Rule by Ellen Goodlett
Publisher: Little, Brown Books for Young Readers


Buy links:
Amazon | Book Depository | Wordery | Indiebound
Synopsis:
Three girls with three deadly secrets. Only one can wear the crown.
The king is dying, his heir has just been murdered, and rebellion brews in the east. But the kingdom of Kolonya and the outer Reaches has one last option before it descends into leaderless chaos.
Or rather, three unexpected options.
Zofi has spent her entire life trekking through the outer Reaches with her band of Travelers. She would do anything to protect the band, her family. But no one can ever find out how far she's already gone.
Akeylah was raised in the Eastern Reach, surrounded by whispers of rebellion and abused by her father. Desperate to escape, she makes a decision that threatens the whole kingdom.
Ren grew up in Kolonya, serving as a lady's maid and scheming her way out of the servants' chambers. But one such plot could get her hung for treason if anyone ever discovers what she's done.
When the king summons the girls, they arrive expecting arrest or even execution. Instead they learn the truth: they are his illegitimate daughters, and one must become his new heir. But someone in Kolonya knows their secrets, and that someone will stop at nothing to keep the sisters from their destiny… to rule.
Magic, mystery, and blackmail abound in this sensational and striking fantasy debut.
---
The Dinner List by Rebecca Serle
Publisher: Flatiron Books


Buy links:
Amazon | Book Depository | Wordery | Indiebound
Synopsis:
For fans of Me Before You and ONE DAY comes a wondrous novel of first love, loss, and the dinner of a lifetime.
When Sabrina Nielsen arrives at her thirtieth birthday dinner she finds at the table not just her best friend, but also her favorite professor from college, her father, her ex-fiance, Tobias, and Audrey Hepburn.
At one point or another, we've all been asked to name five people, living or dead, with whom we'd like to have dinner. Why do we choose the people we do? And what if that dinner was to actually happen? These are the questions Sabrina contends with in Rebecca Serle's utterly captivating novel, The Dinner List, a story imbued with the same delightful magical realism as Sliding Doors, and The Rosie Project.
As the appetizers are served, wine poured, and dinner table conversation begins, it becomes clear that there's a reason these six people have been gathered together, and as Rebecca Serle masterfully traces Sabrina's love affair with Tobias and her coming of age in New York City, The Dinner List grapples with the definition of romance, the expectations of love, and how we navigate our way through it to happiness. Oh, and of course, wisdom from Audrey Hepburn.
Delicious but never indulgent, sweet with just the right amount of bitter, The Dinner List is a modern romance for our times. Bon appetit.
The Navigator's Touch by Julia Ember
Publisher: Duet Books, the YA imprint of Interlude Press


Buy links:
Amazon | Book Depository | Wordery | Indiebound
Synopsis:
After invaders destroyed her village, murdered her family, and took her prisoner, shield-maiden Ragna is hungry for revenge. A trained warrior, she is ready to fight for her home, but with only a mermaid and a crew of disloyal mercenaries to aid her, Ragna knows she needs new allies. Guided by the magical maps on her skin, battling storms and mutiny, Ragna sets sail across the Northern Sea.
She petitions the Jarl in Skjordal for aid, but despite Ragna's rank and fighting ability, the Jarl sees only a young girl, too inexperienced to lead, unworthy of help. To prove herself to the Jarl and win her crew's respect, Ragna undertakes a dangerous expedition. But when forced to decide between her own freedom and the fate of her crew, what will she sacrifice to save what's left of her home?
Inspired by Norse mythology and J.M. Barrie's Peter Pan, this companion novel to The Seafarer's Kiss is a tale of vengeance, valor, honor, and redemption.
What the Woods Keep by Katya de Becerra
Publisher: Imprint


Buy links:
Amazon | Book Depository | Wordery | Indiebound
Synopsis:
What the Woods Keep is the stunning debut of Katya de Becerra, who combines mystery, science fiction, and dark fantasy in a twisty story that will keep you mesmerized right up to the final page. 
On her eighteenth birthday, Hayden inherits her childhood home—on the condition that she uncover its dark secrets.
Hayden tried to put the past behind her, and it worked. She's getting ready for college, living in a Brooklyn apartment, and hanging out with her best friend and roommate Del. But now it's all catching up with her: her mother's mysterious disappearance a decade before, her father's outlandish theories about a lost supernatural race, and Hayden's own dark dreams of strange symbols and rituals in the Colorado woods where she grew up.
As soon as Hayden arrives at her hometown, her friend Del in tow, it begins: Neighbors whisper secrets about Hayden's mother; the boy next door is now all grown-up in a very distracting way; and Hayden feels the trees calling to her. And among them, deep in the woods, Hayden will discover something incredible—something that threatens reality itself.
---
Escaping from Houdini by Kerri Maniscalco
Publisher: JIMMY Patterson


Buy links:
Amazon | Book Depository | Wordery | Indiebound
Synopsis:
In this third installment in the #1 bestselling Stalking Jack the Ripper series, a luxurious ocean liner becomes a floating prison of scandal, madness, and horror when passengers are murdered one by one…with nowhere to run from the killer. . 
Audrey Rose Wadsworth and her partner-in-crime-investigation, Thomas Cresswell, are en route to New York to help solve another blood-soaked mystery. Embarking on a week-long voyage across the Atlantic on the opulent RMS Etruria, they're delighted to discover a traveling troupe of circus performers, fortune tellers, and a certain charismatic young escape artist entertaining the first-class passengers nightly.
But then, privileged young women begin to go missing without explanation, and a series of brutal slayings shocks the entire ship. The strange and disturbing influence of the Moonlight Carnival pervades the decks as the murders grow ever more freakish, with nowhere to escape except the unforgiving sea. It's up to Audrey Rose and Thomas to piece together the gruesome investigation as even more passengers die before reaching their destination. But with clues to the next victim pointing to someone she loves, can Audrey Rose unravel the mystery before the killer's horrifying finale?
---
The Colors of the Rain by R.L. Toalson
Publisher: Yellow Jacket


Buy links:
Amazon | Book Depository | Wordery | Indiebound
Synopsis:
This historical middle grade novel written in free verse, set against the backdrop of the desegregation battles that took place in Houston, Texas, in 1972, is about a young boy and his family dealing with loss and the revelation of dark family secrets.
Ten-year-old Paulie Sanders hates his name because it also belonged to his daddy-his daddy who killed a fellow white man and then crashed his car. With his mama unable to cope, Paulie and his sister, Charlie, move in with their Aunt Bee and attend a new elementary school. But it's 1972, and this new school puts them right in the middle of the Houston School District's war on desegregation.
Paulie soon begins to question everything. He hears his daddy's crime was a race-related one; he killed a white man defending a black man, and when Paulie starts picking fights with a black boy at school, he must face his reasons for doing so. When dark family secrets are revealed, the way forward for everyone will change the way Paulie thinks about family forever.
The Colors of the Rain is an authentic, heartbreaking portrait of loss and human connection during an era fraught with racial tension set in verse from debut author R. L. Toalson.
---
Analee in Real Life by Janelle Milanes
Publisher: Simon Pulse


Buy links:
Amazon | Book Depository | Wordery | Indiebound
Synopsis:
Ever since her mom died three years ago, Analee Echevarria has had trouble saying out loud the weird thoughts that sit in her head. With a best friend who hates her and a dad who's marrying a yogi she can't stand, Analee spends most of her time avoiding reality and role-playing as Kiri, the night elf hunter at the center of her favorite online game.
Through Kiri, Analee is able to express everything real-life Analee cannot: her bravery, her strength, her inner warrior. The one thing both Kiri and Analee can't do, though, is work up the nerve to confess her romantic feelings for Kiri's partner-in-crime, Xolkar—aka a teen boy named Harris whom Analee has never actually met in person.
So when high school heartthrob Seb Matias asks Analee to pose as his girlfriend in an attempt to make his ex jealous, Analee agrees. Sure, Seb seems kind of obnoxious, but Analee could use some practice connecting with people in real life. In fact, it'd maybe even help her with Harris.
But the more Seb tries to coax Analee out of her comfort zone, the more she starts to wonder if her anxious, invisible self is even ready for the real world. Can Analee figure it all out without losing herself in the process?
---
Wild Card by Marie Lu
Publisher: G.P. Putnam's Sons Books for Young Readers


Buy links:
Amazon |  Book Depository | Wordery | Indiebound
Synopsis:
Emika Chen barely made it out of the Warcross Championships alive. Now that she knows the truth behind Hideo's new NeuroLink algorithm, she can no longer trust the one person she's always looked up to, who she once thought was on her side.
Determined to put a stop to Hideo's grim plans, Emika and the Phoenix Riders band together, only to find a new threat lurking on the neon-lit streets of Tokyo. Someone's put a bounty on Emika's head, and her sole chance for survival lies with Zero and the Blackcoats, his ruthless crew. But Emika soon learns that Zero isn't all that he seems–and his protection comes at a price.
Caught in a web of betrayal, with the future of free will at risk, just how far will Emika go to take down the man she loves?
---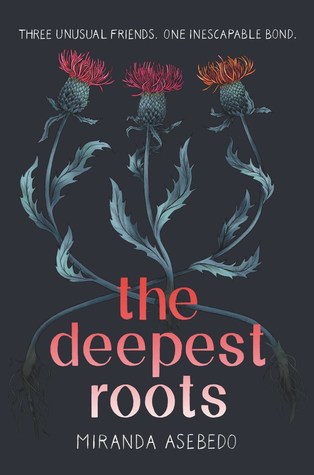 The Deepest Roots by Miranda Asebedo
Publisher: HarperTeen


Buy links:
Amazon | Book Depository | Wordery | Indiebound
Synopsis:
Contemporary with the slightest twist of magic, this stunning debut YA novel is a fresh and heartwarming story about the power of friendship.
Cottonwood Hollow, Kansas, is a strange place. For the past century, every girl has been born with a special talent, like the ability to Fix any object, Heal any wound, or Find what is missing.
Best friends Rome, Lux, and Mercy all have similar talents, but to them, their abilities often feel like a curse. Rome may be able to Fix anything she touches, but that won't help her mom pay rent or make it any easier to confide in Lux and Mercy about what's going on at home. And Rome isn't the only one. Lux has been hiding bigger, more dangerous secrets.
As Rome struggles to keep her friendships close, she discovers the truth about life in Cottonwood Hollow—that friends are stronger than curses, that trust is worth the risk, and sometimes, what you've been looking for has been under your feet the whole time.
---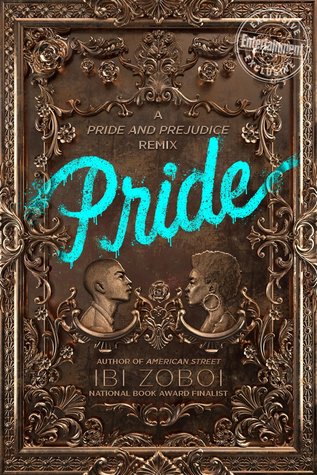 Pride by Ibi Zoboi
Publisher: Balzer + Bray


Buy links:
Amazon | Book Depository | Wordery | Indiebound
Synopsis:
Pride and Prejudice gets remixed in this smart, funny, gorgeous retelling of the classic, starring all characters of color, from Ibi Zoboi, National Book Award finalist and author of American Street.
Zuri Benitez has pride. Brooklyn pride, family pride, and pride in her Afro-Latino roots. But pride might not be enough to save her rapidly gentrifying neighborhood from becoming unrecognizable.
When the wealthy Darcy family moves in across the street, Zuri wants nothing to do with their two teenage sons, even as her older sister, Janae, starts to fall for the charming Ainsley. She especially can't stand the judgmental and arrogant Darius. Yet as Zuri and Darius are forced to find common ground, their initial dislike shifts into an unexpected understanding.
But with four wild sisters pulling her in different directions, cute boy Warren vying for her attention, and college applications hovering on the horizon, Zuri fights to find her place in Bushwick's changing landscape, or lose it all.
In a timely update of Jane Austen's Pride and Prejudice, critically acclaimed author Ibi Zoboi skillfully balances cultural identity, class, and gentrification against the heady magic of first love in her vibrant reimagining of this beloved classic.
For a Muse of Fire by Heidi Heilig
Publisher: Greenwillow Books


Buy links:
Amazon | Book Depository | Wordery | Indiebound
Synopsis:
A young woman with a dangerous power she barely understands. A smuggler with secrets of his own. A country torn between a merciless colonial army, a terrifying tyrant, and a feared rebel leader.
The first book in a new trilogy from the acclaimed Heidi Heilig blends traditional storytelling with ephemera for a lush, page-turning tale of escape and rebellion. For a Muse of Fire will captivate fans of Sabaa Tahir, Leigh Bardugo, and Renée Ahdieh.
Jetta's family is famed as the most talented troupe of shadow players in the land. With Jetta behind the scrim, their puppets seem to move without string or stick—a trade secret, they say. In truth, Jetta can see the souls of the recently departed and bind them to the puppets with her blood.
But ever since the colonizing army conquered their country, the old ways are forbidden, so Jetta must never show, never tell. Her skill and fame are her family's way to earn a spot aboard the royal ship to Aquitan, where shadow plays are the latest rage, and where rumor has it the Mad Emperor has a spring that cures his ills—and could cure Jetta's, too. Because seeing spirits is not the only thing that plagues her.
But as rebellion seethes and as Jetta meets a young smuggler, she will face truths and decisions that she never imagined—and safety will never seem so far away.
---
Vengeful by V. E. Schwab
Publisher: Tor Books


Buy links:
Amazon | Book Depository | Wordery | Indiebound
Synopsis:
Eli Ever and Victor Vale were only medical students when their mutual discovery that near-death experiences can, under the right conditions, manifest extraordinary abilities.
They were best friends, and rivals, and then enemies. They were dead, then alive, and then—Eli killed Victor, once and for all.
Or so he thought—but Sydney Clarke felt otherwise, and used her own superpower to tip the scales. Now, a trio hides in the shadows, while another takes advantages of post-death life to take over the city of Merit.
If there can be life after death—will there be calm after vengeance, or will chaos rule?
---
A Blade So Black by L.L. McKinney
Publisher: Imprint


Buy links:
Amazon | Book Depository | Indiebound | Wordery
Synopsis:
The first time the Nightmares came, it nearly cost Alice her life. Now she's trained to battle monstrous creatures in the dark dream realm known as Wonderland with magic weapons and hardcore fighting skills. Yet even warriors have a curfew.
Life in real-world Atlanta isn't always so simple, as Alice juggles an overprotective mom, a high-maintenance best friend, and a slipping GPA. Keeping the Nightmares at bay is turning into a full-time job. But when Alice's handsome and mysterious mentor is poisoned, she has to find the antidote by venturing deeper into Wonderland than she's ever gone before. And she'll need to use everything she's learned in both worlds to keep from losing her head . . . literally.
---
500 Words or Less by Juleah del Rosario
Publisher:  Simon Pulse


Buy links:
Amazon | Book Depository | Indiebound | Wordery
Synopsis:
Nic Chen refuses to spend her senior year branded as the girl who cheated on her charismatic and lovable boyfriend. To redefine her reputation among her Ivy League–obsessed classmates, Nic begins writing their college admissions essays.
But the more essays Nic writes for other people, the less sure she becomes of herself, the kind of person she is, and whether her moral compass even points north anymore.
---
The Caged Queen by Kristen Ciccarelli
Publisher: HarperTeen


Buy links:
Amazon | Book Depository | Indiebound | Wordery
Synopsis:
Once there were two sisters born with a bond so strong that it forged them together forever. When they were angry, mirrors shattered, and when they were happy, flowers bloomed. It was a magic they cherished—until the day a terrible accident took Essie's life and trapped her soul in this world.
Dax—the heir to Firgaard's throne—was responsible for the accident. Roa swore to hate him forever. But eight years later he returned, begging for her help. He was determined to dethrone his cruel father, under whose oppressive reign Roa's people had suffered. Roa made him a deal: she'd give him the army he needed if he made her queen.
Together with Dax and his sister, Asha, Roa and her people waged war and deposed a tyrant. But now Asha is on the run, hiding from the price on her head. And Roa is an outlander queen, far from home and married to her enemy. Worst of all: Dax's promises go unfulfilled. Roa's people continue to suffer.
Then a chance to right every wrong arises—an opportunity for Roa to rid herself of this enemy king and rescue her beloved sister. During the Reliquishing, when the spirits of the dead are said to return, Roa can reclaim her sister for good.
All she has to do is kill the king.
---
The Sisters of the Winter Wood by Rena Rossner
Publisher: Redhook


Buy links:
Amazon | Book Depository | Wordery
Synopsis:
Captivating and boldly imaginative, with a tale of sisterhood at its heart, Rena Rossner's debut fantasy invites you to enter a world filled with magic, folklore, and the dangers of the woods.
Raised in a small village surrounded by vast forests, Liba and Laya have lived a peaceful sheltered life – even if they've heard of troubling times for Jews elsewhere. When their parents travel to visit their dying grandfather, the sisters are left behind in their home in the woods.
But before they leave, Liba discovers the secret that their Tati can transform into a bear, and their Mami into a swan. Perhaps, Liba realizes, the old fairy tales are true. She must guard this secret carefully, even from her beloved sister.
Soon a troupe of mysterious men appear in town and Laya falls under their spell-despite their mother's warning to be wary of strangers. And these are not the only dangers lurking in the woods…
The sisters will need each other if they are to become the women they need to be – and save their people from the dark forces that draw closer.
---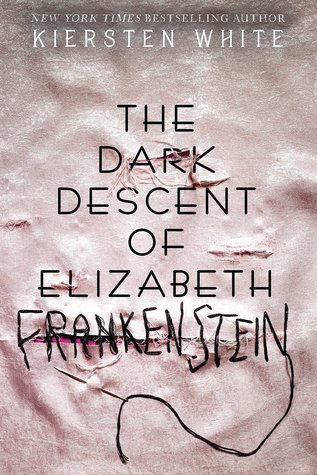 The Dark Descent of Elizabeth Frankenstein by Kiersten White
Publisher: Delacorte Press


Buy links:
Amazon | Book Depository | Wordery
Synopsis:
Elizabeth Lavenza hasn't had a proper meal in weeks. Her thin arms are covered with bruises from her "caregiver," and she is on the verge of being thrown into the streets . . . until she is brought to the home of Victor Frankenstein, an unsmiling, solitary boy who has everything–except a friend.
Victor is her escape from misery. Elizabeth does everything she can to make herself indispensable–and it works. She is taken in by the Frankenstein family and rewarded with a warm bed, delicious food, and dresses of the finest silk. Soon she and Victor are inseparable.
But her new life comes at a price. As the years pass, Elizabeth's survival depends on managing Victor's dangerous temper and entertaining his every whim, no matter how depraved. Behind her blue eyes and sweet smile lies the calculating heart of a girl determined to stay alive no matter the cost . . . as the world she knows is consumed by darkness.
---
Black Wings Beating by Alex London
Publisher:  Farrar Straus Giroux


Buy links:
Amazon | Book Depository | Wordery | Indiebound
Synopsis:
The people of Uztar have long looked to the sky with hope and wonder. Nothing in their world is more revered than the birds of prey and no one more honored than the falconers who call them to their fists.
Brysen strives to be a great falconer–while his twin sister, Kylee, rejects her ancient gifts for the sport and wishes to be free of falconry. She's nearly made it out, too, but a war is rolling toward their home in the Six Villages, and no bird or falconer will be safe.
Together the twins must journey into the treacherous mountains to trap the Ghost Eagle, the greatest of the Uztari birds and a solitary killer. Brysen goes for the boy he loves and the glory he's long craved, and Kylee to atone for her past and to protect her brother's future. But both are hunted by those who seek one thing: power.
---
An Absolutely Remarkable Thing by Hank Green
Publisher: Dutton


Buy links:
Amazon | Book Depository | Wordery
Synopsis:
In his much-anticipated debut novel, Hank Green–cocreator of Crash Course, Vlogbrothers, and SciShow–spins a sweeping, cinematic tale about a young woman who becomes an overnight celebrity before realizing she's part of something bigger, and stranger, than anyone could have possibly imagined.
The Carls just appeared. Coming home from work at three a.m., twenty-three-year-old April May stumbles across a giant sculpture. Delighted by its appearance and craftsmanship–like a ten-foot-tall Transformer wearing a suit of samurai armor–April and her friend Andy make a video with it, which Andy uploads to YouTube. The next day April wakes up to a viral video and a new life. News quickly spreads that there are Carls in dozens of cities around the world–everywhere from Beijing to Buenos Aires–and April, as their first documentarian, finds herself at the center of an intense international media spotlight.
Now April has to deal with the pressure on her relationships, her identity, and her safety that this new position brings, all while being on the front lines of the quest to find out not just what the Carls are, but what they want from us.
Compulsively entertaining and powerfully relevant, An Absolutely Remarkable Thing grapples with big themes, including how the social internet is changing fame, rhetoric, and radicalization; how our culture deals with fear and uncertainty; and how vilification and adoration spring from the same dehumanization that follows a life in the public eye.
---
Unstoppable Moses by Tyler James Smith
Publisher: Flatiron Books


Buy links:
Amazon | Book Depository | Wordery | Indiebound
Synopsis:
In this coming-of-age debut, a seventeen-year-old boy has one week in the aftermath of a disastrous prank to prove to the authorities, and to himself, that he's not a worthless jerk who belongs in jail.
Moses and his cousin Charlie were best friends, wisecracking pranksters, unstoppable forces of teenage energy―until the night they became accidental arsonists and set in motion a chain of events that left Moses alone, guilt-stricken, and most likely trapped in his dead-end town.
Then Moses gets a lucky break: the chance to volunteer as a camp counselor for week and prove that the incident at the bowling alley should be expunged from his record. And since a criminal record and enrollment at Duke are mutually exclusive, he's determined to get through his community service and get on with his life. But tragedy seems to follow him wherever he goes, and this time, it might just stop him in his tracks.