Did you like the previous pre-order campaign lists I made just for you?
Hope they've help you a lot because today marks the start of me, sharing the Swag Party for 2019 new book releases. I know I've convinced you to stretch out your grabby crabby hands to get all the amazing books out there for the past few months but AGAIN, I want to spice up your cozy bookish nook and add some more pinch of sweetness to your lovely reading life!
So, if you pre-ordered and haven't send your proof of purchase, don't worry because you ain't late for the party yet! Just follow the details' links. Or if there's a book you know that is not in this list, comment below and I'll add them up.
We Set the Dark on Fire by Tehlor Kay Mejia
Release Date: February 26, 2019
Pre-order links:
Amazon | Barnes & Noble | Book Depository | Indiebound | Wordery

Pre-order and you'll get (INT'L — First 50 pre-order):
📖 Character card of your choice
📖 Signed bookplate
Details here
Four Dead Queens by Astrid Scholte
Release Date: February 26, 2019
Pre-order links:
Amazon | Barnes & Noble | Book Depository | Indiebound | Wordery

Pre-order and you'll get (US Only):
📖 Your choice of one Welcome Quadara Pin
Details here
Tell Me Everything by Sarah Enni
Release Date: February 26, 2019
Pre-order links:
Amazon | Barnes & Noble | Book Depository | Indiebound | Wordery

Pre-order and you'll get a chance to win:
📖 ARCs of If I'm Being Honest by Austin Siegemund-Broka & Emily Wibberley and Tell Me How You Really Feel by Aminah Mae Safi
📖 Tell Me Everything and @FirstDraftPod swag
Details here
An Affair of Poisons by Addie Thorley
Release Date: February 26, 2019
Pre-order links:
Amazon | Barnes & Noble | Book Depository | Indiebound | Wordery

Pre-order and you'll get (INT'L):
📖 Bookmark
📖 Signed bookplate
📖 3 limited edition character art cards
Grand prize winner will get:
📖 2 limited edition An Affair of Poisons buttons
📖 Leather bound grimoire journal
📖 Flower bottle necklace
📖 Paper back copies of Blood Rose Rebellion by Rosalyn Eves, Gunslinger Girl by Lyndsay Ely, Shimmer and Burn by Mary Taranta, and A Criminal Magic by Lee Kelly
Details here
The Priory of the Orange Tree by Samantha Shannon
Release Date: February 26, 2019
Pre-order links:
Amazon | Barnes & Noble | Book Depository | Indiebound | Wordery

Pre-order and you'll get:
📖 The Priory of the Orange Tree exclusive signed poster
Details here
You Asked for Perfect by Laura Silverman
Release Date: March 5, 2019
Pre-order links:
Amazon | Barnes & Noble | Book Depository | Indiebound | Wordery

Pre-order and you'll get:
📖 One of four different magnetic bookmarks designed as the characters Ariel, Amir, Sook, and Malka (the character will be chosen randomly)
3 Grand prize winners will get:
A full set of all four characters magnetic bookmarks
Details here
The Fever King by Victoria Lee
Release Date: March 1, 2019
Pre-order links:
Amazon | Barnes & Noble | Book Depository | Indiebound | Wordery

Pre-order and you'll get (INT'L):
📖 Signed bookplate
📖 Bookmark
📖 "Those jeans're so tight I can see your religion" sticker
📖 Noam flair pin (US only)*
📖 Character art cards feat. Noam and Dara
Grand prize winner will get:
📖 Pre-order swags
📖 TFK-branded playing cards
📖 Durham enamel pin
📖 Kindle loaded with 5 books of your choice
Details here
If You're Out There by Katy Loutzenhiser
Release Date: March 5, 2019
Pre-order links:
Amazon | Barnes & Noble | Book Depository | Indiebound | Wordery

Pre-order and you'll get (INT'L):
📖 Signed bookplate
📖 Bookmark
📖 Sticker
📖 Enamel pin (US Only)
Details here
The Shadowglass by Rin Chupeco
Release Date: March 5, 2019
Pre-order links:
Amazon | Barnes & Noble | Book Depository | Indiebound | Wordery

Pre-order and you'll get (INT'L):
📖 A short story from Kalen's point-of-view
📖 A custom Tea sticker while supplies last.
📖 Bone Witch series enamel pin (first 75 entrants)
Details here
Seventh Grade Vs. the Galaxy by Joshua S. Levy
Release Date: March 5, 2019
Pre-order links:
Amazon | Barnes & Noble | Book Depository | Indiebound | Wordery

Pre-order at Word Bookstores and you'll get:
📖 Exclusive Poster
The Waking Forest by Alyssa Wees
Release Date: March 12, 2019
Pre-order links:
Amazon | Barnes & Noble | Book Depository | Indiebound | Wordery

Pre-order and you'll get (INT'L):
📖 Signed bookplate
📖 Bookmark
📖 Sticker
Grand prize winner will get:
📖 Key chain
📖 Fox enamel pin
📖 Temporary rose tattoos
📖 Fox socks
Details here
Beware the Night by Jessica Fleck
Release Date: March 12, 2019
Pre-order Links:
Amazon | Barnes & Noble | Book Depository | Indiebound | Wordery

Pre-order and you'll get (INT'L):
Tier 1
📖 Beware the Night bookmark
📖 One sticker with quote
📖 One glass fish (similar to that which Dorian gives Veda)
3 Winners will get (US Only):
Tier 2
📖 Gifts from Tier 1
📖 A brass hourglass necklace (like Veda, Nico, & Dorian wear)
📖 A "light & dark" flor de lis notebook
📖 Gold extra fine sharpie
One winner will get (US Only):
Tier 3
📖 Gifts from Tier 1
📖 A mini wooden hourglass
📖 A sun yellow journal, a set of silver
📖 Gold extra fine sharpie
📖 A fish pencil case
📖 A lemon 'Blessings' soy candle
Details here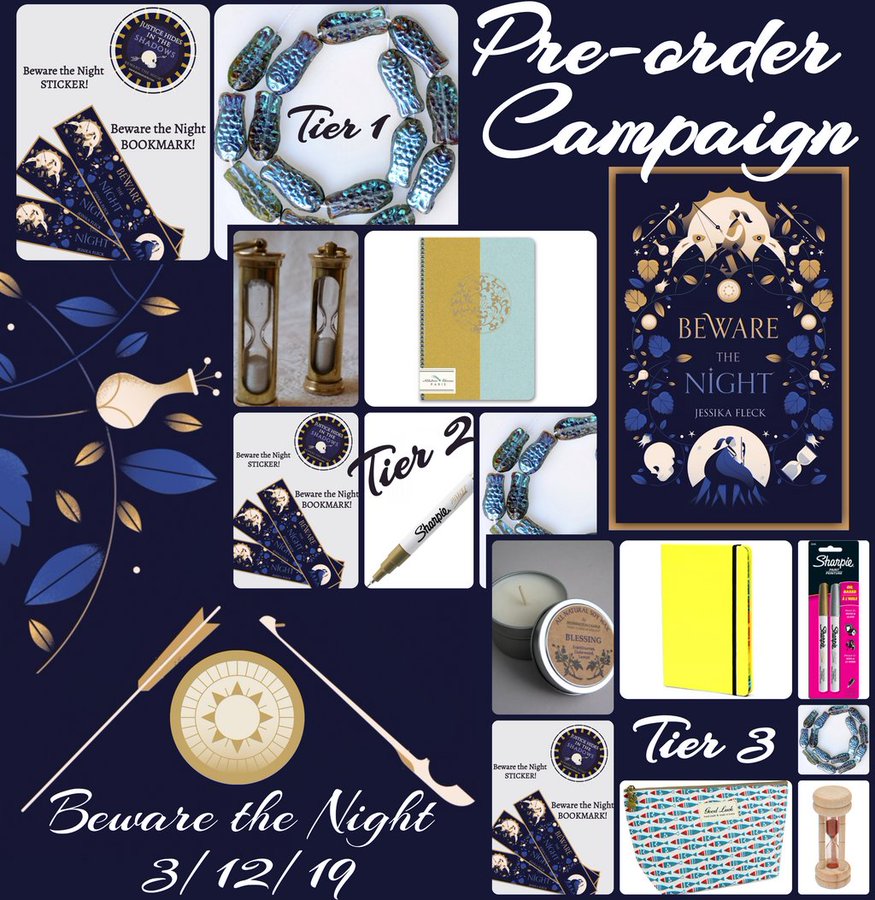 Bloodleaf by Crystal Smith
Release Date: March 12, 2019
Pre-order links:
Amazon | Barnes & Noble | Book Depository | Indiebound | Wordery

Pre-order and you'll get (US only):
📖 Exclusive notebook
📖 Map of Achleva
Details here
The Next to Last Mistake by Amalie Jahn
Release Date: March 19, 2019
Pre-order links:
Amazon | Barnes & Noble | Book Depository | Indiebound | Wordery

Pre-order and you'll get (US Only):
📖 Bookmark
📖 Signed bookplate
Unlocks the big four prize packs, inspired by each girl in THE NEXT TO LAST MISTAKE (after 25, 50, 75, and 100 entries):
Summer's prize pack at 25 entries:
📖 A mini perfume
📖 A selection of nail polishes
📖 A hand & nail mask
📖 body butter
📖 A pair of fuzzy socks
Alice's prize pack at 50 entries:
📖 A pencil case with pens
📖 A pack of gum
📖 A notebook
Tess's prize pack at 75 entries:
📖 An adorable cow plush named Sunshine
📖 A pack of cow stickers
📖 A MOO decal
Leonetta's prize pack at 100 entries:
📖 A journal
📖 Two hair scrunchies
📖 A pouch
📖 $10 Barnes and Noble gift card
Details here
Winter War Awakening by Rosalyn Eves
Release Date: March 19, 2019
Pre-order links:
Amazon | Barnes & Noble | Book Depository | Indiebound | Wordery

Pre-order and you'll get (US Only):
📖 Signed bookplate
📖 Three bookmarks
📖 Crow enamel pin

INT'L will get:
📖 An exclusive art card by Rosalyn Eves
Details here

Once & Future by Amy Rose Capetta & Cori McCarthy
Release Date: March 26, 2019
Pre-order links:
Amazon | Barnes & Noble | Book Depository | Indiebound | Wordery

Pre-order and you'll get (US Only):
📖 Signed bookplate
📖 Lenticular bookmark
📖 Mini poster
Details here
Descendant of the Crane by Joan He
Release Date: April 2, 2019
Pre-order links:
Amazon | Barnes & Noble | Book Depository | Indiebound | Wordery

Pre-order and you'll get (INT'L):
📖 4 out of 5 character cards (selected randomly)
📖 preorders will also receive a rose gold bookmark
Details here
Through the White Wood by Jessica Leake
Release Date: April 9, 2019
Pre-order links:
Amazon | Barnes & Noble | Book Depository | Indiebound | Wordery

Pre-order and you'll get:
📖 Signed bookmark
📖 Character art printed on a postcard-size card of the two MCs in Through the White Wood
Details here
An Anatomy of Beast by Olivia A. Cole
Release Date: April 16, 2019
Pre-order links:
Amazon | Barnes & Noble | Book Depository | Indiebound | Wordery

Pre-order and you'll get:
📖 Enamel pins designed by Hafsah Faizal (author of WE HUNT THE FLAME)
📖 Original art created by Sara Alfgeeh
📖 Faloiv world map
Details here
Don't Date Rosa Santos by Nina Moreno
Release Date: May 14, 2019
Pre-order links:
Amazon | Barnes & Noble | Book Depository | Indiebound | Wordery

Pre-order and you'll get:
📖 Checkout card from Port Coral Library as bookplate
📖 Bookmark
📖 Postcard
Details here
Stronger Than a Bronze Dragon by Mary Fan
Release Date: June 11, 2019
Pre-order links:
Amazon | Barnes & Noble | Book Depository | Indiebound | Wordery

Pre-order and you'll get (INT'L):
📖 Signed postcard
📖 A magnet
📖 A red envelope containing a mystery prize
Details here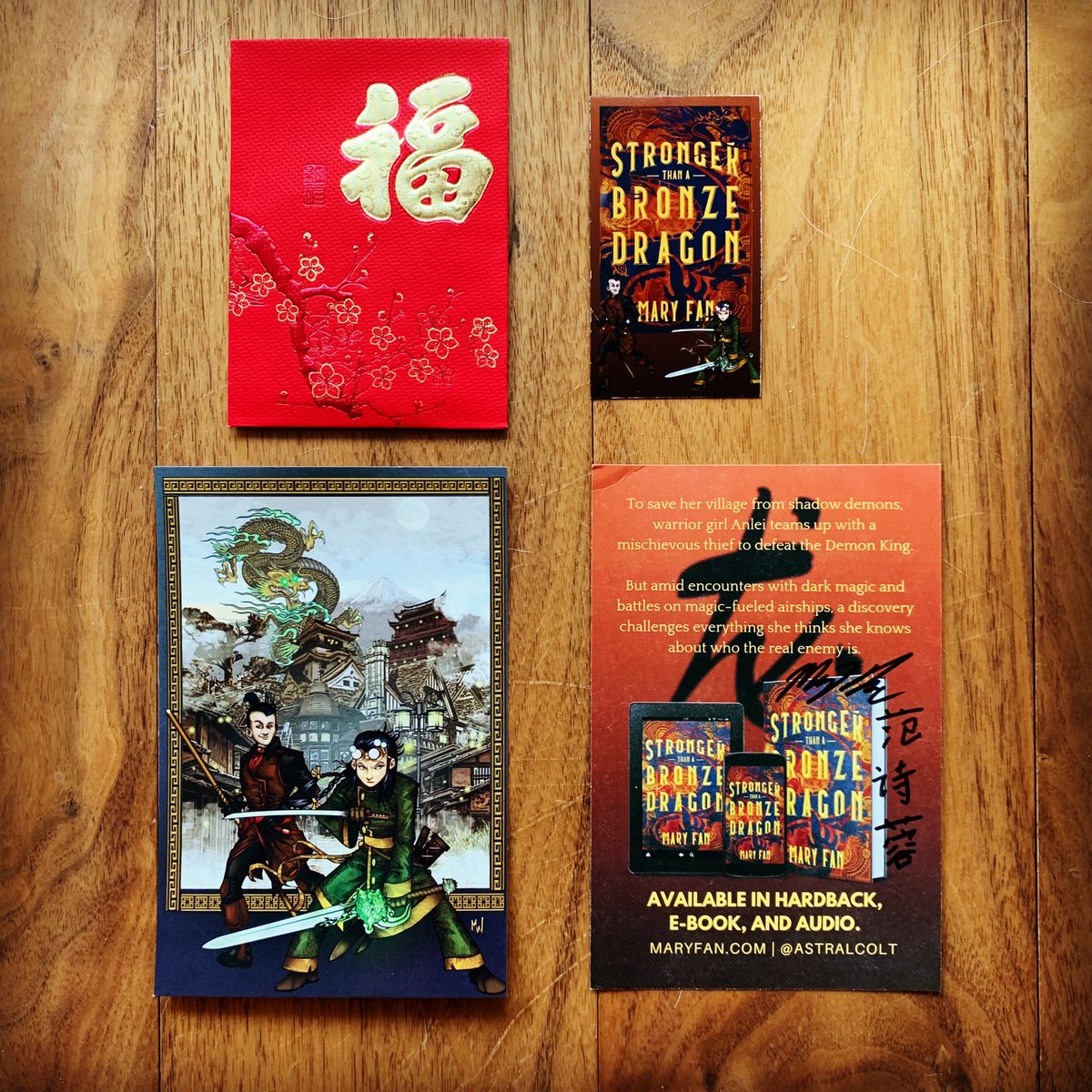 Spin the Dawn by Elizabeth Lim
Release Date: July 30, 2019
Pre-order links:
Amazon | Barnes & Noble | Book Depository | Indiebound | Wordery

Pre-order and you'll get (INT'L):
📖 Exclusive art (plural, not singular) specifically designed for SPIN THE DAWN's preorder campaign
📖 Bookmark
📖 Signed bookplate
📖 Something you can wear (more details coming soon)
Details here

Previous Pre-order Campaigns:

When the Truth Unravels by RuthAnne Snow
Release Date: January 1, 2019
Pre-order links:
Amazon | Barnes & Noble | Book Depository | Indiebound | Wordery


Pre-order and you'll get (US Only):
📖 Signed bookplate
📖 An art print designed by the amazing Isabel Ibanez Davis

Unlocks the big four prize packs, inspired by each girl in WHEN THE TRUTH UNRAVELS (after 200 entries):
Jenna's prize pack:
📖 A notebook
📖 TUL pens
📖 A "nasty woman" bracelet
📖 A variety pack of sheet masks

Rosie's prize pack:
📖 Sandman by Neil Gaiman graphic novel
📖 $15 Barnes and Noble gift card
📖 A cozy scarf for wintry reading

Ket's prize pack:
📖 A pair of satin pillowcases
📖 A selection of glittery nail polishe
📖 A pair of unicorn slipper

Elin's prize pack:
📖 First season of Golden Girls on DVD
📖 Lip balm
📖 A "nevertheless, she persisted" bracelet
Details here

Firestarter by Tara Sim
Release Date: January 8, 2019
Pre-order links:
Amazon | Barnes & Noble | Book Depository | Indiebound | Wordery


Pre-order and you'll get (INT'L):
📖 A 10 x 8 exclusive poster of Danny and Colton (art by TJ Ryan)
Details here


Two Can Keep a Secret by Karen M. McManus
Release Date: January 8, 2019
Pre-order Links:
Amazon | Barnes & Noble | Book Depository | Indiebound | Wordery


Pre-order and you'll get (US Only):
📖 An exclusive short story set in the aftermath of One of Us Is Lying, "The Bayview Four: Where Are They Now?"
Details here

Even If I Fall by Abigail Johnson
Release Date: January 8, 2019
Pre-order links:
Amazon | Barnes & Noble | Book Depository | Books-A-Million | Indiebound | Wordery


Pre-order and you'll get (INT'L):
📖 Bookmark
📖 Signed bookplate
📖 Cloud charm necklace with quote card (US only)
📖 Digital copy of the original flash fiction piece that inspired Even If I Fall
Details here


The Winter of the Witch by Katherine Arden
Release Date: January 8, 2019
Pre-order Links (US Only):
Amazon | Barnes & Noble | Book Depository | Indiebound | Wordery


Pre-order and you'll get:
📖 Signed bookplate
Details here

The Wicked King by Holly Black
Release Date: January 8, 2019
Pre-order Links:
Amazon | Barnes & Noble | Book Depository | Indiebound | Wordery


Pre-order and you'll get (US Only):
📖 Enamel Pin
📖 The Wicked King bookmark
Details here

Our Year of Maybe by Rachel Lynn Solomon
Release Date: January 15, 2019
Pre-order Links:
Amazon | Barnes & Noble | Book Depository | Indiebound | Wordery


Pre-order and you'll get (INT'L):
📖 Bookmark
📖 Signed bookplate
📖 MAYBE vinyl sticker (about 1.5 x 3.5 inches)
📖 Adorable dandelion enamel pin (US only)
📖 Dandelion temporary tattoo (Third Place Books only)

3 Grand prize winners will get:
📖 Bookmark
📖 Signed bookplate
📖 MAYBE vinyl sticker (about 1.5 x 3.5 inches)
📖 Dandelion enamel pin
📖 Dandelion book beau
📖 Dandelion makeup bag
📖 Dandelion lip balm
📖 Chinchillin' enamel pin (in honor of a character's pet chinchilla named Mark)
📖 Signed You'll Miss Me When I'm Gone paperback (also out 1/15/19)
📖 The chance to name a character in Rachel Lynn Solomon's 2020 book!
Details here

Stain by A.G. Howard
Release Date: January 15, 2019
Pre-order Links:
Amazon | Barnes & Noble | Book Depository | Indiebound | Wordery


Pre-order and you'll get (US Only):
📖 Enamel Pin
📖 Signed bookplate
📖 A never-before-told backstory to Splintered's Morpheus
Details here

Echo North by Joanna Ruth Meyer
Release Date: January 15, 2019
Pre-order Links:
Amazon | Barnes & Noble | Book Depository | Indiebound | Wordery


Pre-order and you'll get (US Only):
📖 Bookmark
📖 Sticker
📖 Magnet
📖 Postcard
📖 Signed bookplate

Grand prize winner will get:
📖 A cross-stitch by Anna Bright
Details here

The Gilded Wolves by Roshani Chokshi
Release Date: January 15, 2019
Pre-order links:
Amazon | Barnes & Noble | Book Depository | Indiebound | Wordery


Pre-order and you'll get:
📖 A pack of character tarot cards designed by Yoshi Yoshitani
Details here

Only a Breath Apart by Katie McGarry
Release Date: January 22, 2019
Pre-order links:
Amazon | Barnes & Noble | Book Depository | Indiebound | Wordery


Pre-order and you'll get:
📖 Original eNovellas:
• A Moment Together (Only a Breath Apart Prequel)
• Returning Home (A Thunder Road Novella)
Details here

All Is Fair by Dee Garretson
Release Date: January 22, 2019
Pre-order links:
Amazon | Barnes & Noble | Book Depository | Indiebound | Wordery


Pre-order and you'll get:
📖 Vintage-inspired elastic bracelet (first 20 entrants)
📖 Bookmark with biplane charm (first 20 entrants)
📖 Bookplate
Details here

Song of the Dead by Sarah Glenn Marsh
Release Date: January 22, 2019
Pre-order links:
Amazon | Barnes & Noble | Book Depository | Indiebound | Wordery


Pre-order and you'll get (INT'L):
📖 Signed Song of the Dead bookmark
📖 An 11×17 beautiful map of the world of the Reign of the Fallen series (art by Jessica Khoury)
📖 4 new character cards including everyone's favorite bear, Lysander! (art by Jo Painter)
Details here

The Birds, the Bees, and You and Me by Olivia Hinebaugh
Release Date: January 22, 2019
Pre-order Links:
Amazon | Barnes & Noble | Book Depository | Indiebound | Wordery


Pre-order at One More Page and you'll get:
📖 Enamel pins
Details here

Circle of Shadows by Evelyn Skye
Release Date: January 22, 2019
Pre-order Links (US Only):
Amazon | Barnes & Noble | Book Depository | Indiebound | Wordery


Pre-order and you'll get:
📖 A limited edition of character cards
📖 Get a chance to win a $1000 shopping spree
Details here

The Kingdom of Copper by S. A Chakraborty
Release Date: January 22, 2019
Pre-order Links:
Amazon | Barnes & Noble | Book Depository | Indiebound | Wordery


Pre-order and you'll get:
📖 Exclusive short story
Details hereA Curse So Dark and Lonely by Brigid Kemmerer
Release Date: January 29, 2019
Pre-order Links:
Amazon | Barnes & Noble | Book Depository | Indiebound | Wordery


Pre-order and you'll get (INT'L):
📖 A bonus scene
📖 An exclusive early sneak peek at Book 2

4 Grand prize winners will get:
📖 A Book Beau
📖 Out of Print socks
📖 Books-scented Homesick candle
📖 Anthropologie mug
📖 Lush Bath Bomb
📖 Books Are Magic enamel pin
📖 A signed copy of Brigid Kemmerer's Letters to the Lost
Details here

Here and Now and Then by Mike Chen
Release Date: January 29, 2019
Pre-order Links:
Amazon | Barnes & Noble | Book Depository | Indiebound | Wordery


Pre-order and you'll get:
📖 Bookmark
📖 Signed Bookplate

Grand prize winners will get:
📖 Hand annotated ARC of Here and Now and Then
Details here

The Love & Lies of Rukhsana Ali by Sabina Khan
Release Date: January 29, 2019
Pre-order Links:
Amazon | Barnes & Noble | Book Depository | Indiebound | Wordery


Pre-order and you'll get (INTL):
📖 A bookmark
📖 A signed bookplate
📖 A 4″ by 6″ postcard of Rukhsana in Bangladesh
📖 A 4″ by 6″ postcard of Rukhsana and Ariana in Seattle

3 Grand prize winners will get:
📖 Pre-order swags
📖 A poster of TLLORA art (11″ by 17″)
📖 A scented candle from Bath and Body Works
📖 A tin of Organic Cinnamon Rooibos Chai from David's tea
📖 A hand-written personalized letter from me.
Details here

King of Scars by Leigh Bardugo
Release Date: January 29, 2019
Pre-order links:
Amazon | Barnes & Noble | Book Depository | Indiebound | Wordery


Pre-order and you'll get:
📖 King of Scars enamel pin (US only)
📖 Win an exclusive print signed by author Leigh Bardugo featuring new character art of Nikolai Lantsov by artist Kevin Wada (UK only through Waterstones)
Details here

Death Prefers Blondes by Caleb Roehrig
Release Date: January 29, 2019
Pre-order links:
Amazon | Barnes & Noble | Book Depository | Indiebound | Wordery


Pre-order and you'll get (INT'L):
📖 Bookmark
📖 Art Card
📖 Signed Bookplate
📖 An original digital short story (emailed as a pdf)
Details here

Enchantée by Gita Trelease
Release Date: February 5, 2019
Pre-order links:
Amazon | Barnes & Noble | Book Depository | Indiebound | Wordery


Pre-order and you'll get (US Only):
📖 Exclusive hot air balloon print (11″x17″)
Details here

The Weight of Our Sky by Hanna Alkaf
Release Date: February 5, 2019
Pre-order links:
Amazon | Barnes & Noble | Book Depository | Indiebound | Wordery


Pre-order and you'll get (INT'L):
📖 Enamel pin designed by Rizal Aziz
📖 Bookmark
📖 Signed bookplate illustrated by the author
📖 A pop-up card featuring scenes of old-school Malaysia from Loka Made, illustrated by Fei Giap
Details here

A Sprinkle of Spirits by Anna Meriano
Release Date: February 5, 2019
Pre-order links:
Amazon | Barnes & Noble | Book Depository | Indiebound | Wordery


Pre-order and you'll get (INT'L):
📖 Stickers
📖 Pins
Details here

The Last Life of Prince Alastor by Alexandra Bracken
Release Date: February 5, 2019
Pre-order links:
Amazon | Barnes & Noble | Book Depository | Indiebound | Wordery


Pre-order and you'll get (INT'L):
📖 Three character prints (final versions will be updated soon!)
Details here

Lady Smoke by Laura Sebastian
Release Date: February 5, 2019
Pre-order links:
Amazon | Barnes & Noble | Book Depository | Indiebound | Wordery

Pre-order and you'll get (US Only):
📖 A Lasy Smoke phone wallet
Details here

Courting Darkness by Robin LaFevers
Release Date: February 5, 2019
Pre-order links:
Amazon | Barnes & Noble | Book Depository | Indiebound | Wordery


Pre-order and you'll get (US Only):
📖 Notebook (first 300 pre-orders)
📖 Enamel pin (first 300 pre-orders)
📖 Bookmark
📖 Temporary tattoo
📖 Stickers
Details here

The Deceivers by Kristen Simmons
Release Date: February 5, 2019
Pre-order links:
Amazon | Barnes & Noble | Book Depository | Indiebound | Wordery


Pre-order and you'll get (US Only):
📖 Enamel pin
Details here

Bloodwitch by Susan Dennard
Release Date: February 12, 2019
Pre-order links:
Amazon | Barnes & Noble | Book Depository | Indiebound | Wordery


Pre-order and you'll get (US Only):
📖 1 Mountain bat enamel pin
📖 1 Sea fox enamel pin
Details here


Spectacle by Jodie Lynn Zdrok
Release Date: February 12, 2019
Pre-order links:
Amazon | Barnes & Noble | Book Depository | Indiebound | Wordery


Pre-order and you'll get (INT'L):
📖 a personalized bookplate or bookmark
📖 a Paris-themed notecard or postcard
📖 violet candies to ONE random winner
Details here

Dark Age by Pierce Brown
Release Date: February 12, 2019
Pre-order links:
Amazon | Barnes & Noble | Book Depository | Indiebound | Wordery


Pre-order and you'll get (US Only):
📖 A  holiday card directly from Pierce Brown, featuring never-before-seen character art!
Details here

Secret in the Stone by Kamilla Benko
Release Date: February 19, 2019
Pre-order links:
Amazon | Barnes & Noble | Book Depository | Indiebound | Wordery


Pre-order and you'll get:
📖 A Poster of the UK Edition of Secret of the Stone
📖 Signed bookplate
📖 A Unicorn Quest bookmark
Details here

Immoral Code by Lillian Clark
Release Date: February 19, 2019
Pre-order links:
Amazon | Barnes & Noble | Book Depository | Indiebound | Wordery


Pre-order and you'll get a chance to win:
📖 An annotated ARC of Immoral Code
📖 Immoral Code tote bag
Details here